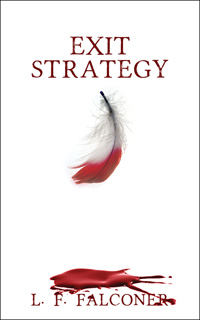 Jonas Dumar has a problem. Having little faith that his lawyer can get him acquitted of the murder charge he faces in Massachusetts, Jonas takes to the sea under an assumed identity to seek asylum with a past college chum who now lives in the Shetland Islands. Hoping to ease the loneliness of the voyage, at a quick stop in Newfoundland, he takes on board, Gabe and Izzy, a young couple trying to work their way back to Spain. Only when he's back out on the open sea does Jonas begin to suspect his passengers are not what they appear to be. But then again, neither is Jonas Dumar. So begins a nightmarish voyage across the North Atlantic. After a failed attempt to abandon Gabe and Izzy in Greenland, Jonas awakes one morning to find himself sailing alone with nothing but a haunting dream and a resurrected childhood friend. Gabe and Izzy have vanished without a trace. But then they come back. Delving into the mind of a man in possession of too many secrets, Exit Strategy is a wild excursion into a realm of the fantastic, as Jonas Dumar comes to realize that some secrets are better left unknown. A man really can learn more about himself than he ever wants to know. Author warning: Contains graphic material that might be unsuitable for some readers.
Media Center
Press play to watch the video...
Like a silent nightrider in Toyota blue, the Camry floats down the black ribbon of road, aiding and abetting the fugitive within. I pop in an Aerosmith CD to help keep me awake. Traffic is light and I up my speed a little. Sam is curled up on the front seat beside me, content to sleep now after his initial thrill of going for a ride dissipated. Sam is the only dog I've ever owned. I was never allowed to have one as a boy. My mother didn't like them. "They're filthy, destructive, dangerous creatures." (Talk about the pot calling the kettle black.) She did allow me to have a goldfish once, though.
About L. F. Falconer

Raised on a ranch in rural Nevada, L.F. Falconer has lived in various places throughout the West, including Portland OR, Santa Cruz CA, and Reno and South Lake Tahoe NV. Now back in her hometown of Fallon, she enjoys getting off the beaten path and exploring the back roads whenever possible. Her first novel, Hope Flies on Broken Wings, was released in 2012.
5 x 8 paperback cream
Instant e-Book Download
Note: e-Books are for electronic enjoyment only. They may not be edited or printed.
Genre:
FICTION / Thrillers / General
Publication:
Jan 29, 2013