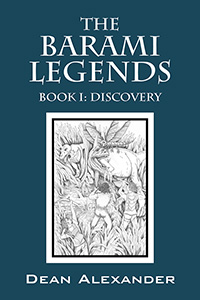 When Jonathan barely escapes the two carnivores hunting him, he enters a new world unimagined in his most adventuresome dreams. Intriguing new friendships mingle with dangerous challenges so great that he must draw on every lesson learned as a former commando.... The Barami Legends is a robust fantasy adventure written to entertain young adults and others who enjoy this type of story. It begins in the Florida barrier islands, and proceeds through the jungles of South America into the strange new world of the Barami. Here is a world that stretches reality, but retains a bond of believability with the reader. The world is radically different and hauntingly familiar. Tribes are real, but originally existed in a different world time line. Dragonhawks dart through the sky guarding their allies the Barami. The strange Url maintain their reputation as highly intelligent strategists and loyal friends, but look like giant whiskered monkeys. Some animal life existed in previous eons and others never existed. The danger and mysteries of this new world unfold abruptly. The tempo increases when an ancient enemy attacks the Barami village and their Hamadi minions kidnap the Barami Chief's son. New surprises and unexpected events punctuate each chapter as the Barami mount a rescue mission. Escaping from Gort Mountain with a ragtag group of ex-prisoners that includes children, the Barami know their enemy will mount a major effort to recapture or kill them. The protagonist must learn, grow and adjust to a world unlike anything he has ever before experienced. As the true nature of the Barami's virulent enemy is unveiled, it becomes clear that first they must avoid capture. Then the survival of the Barami and their friends will require the gathering of allies and a fight to the death. As a veteran soldier and great admirer of the Barami, Jonathan knows he will be deeply involved wherever the action leads.
About Dean Alexander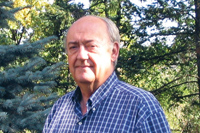 DEAN ALEXANDER HAS CHOSEN TO WRITE ACTION ADVENTURE STORIES TO ENTERTAIN YOUNG ADULTS AND OTHERS WHO ENJOY THIS TYPE OF STORY. A GRADUATE OF YALE UNIVERSITY AND THE U.S. ARMY COMMAND AND GENERAL STAFF COLLEGE, DEAN WEAVES TOGETHER HIGHLY IMAGINATIVE TALES THAT MERGE THE PREHISTORY OF BOTH ANIMALS AND MEN. DANGERS HAVE ALWAYS CHALLENGED GOOD MEN. THE AUTHOR MAKES THEM UP FRONT AND REAL. DEAN LIVES IN A SUBURB OF CHICAGO WITH HIS WIFE RENEE.
Genre:
FICTION / Action & Adventure
Publication:
Jul 25, 2013