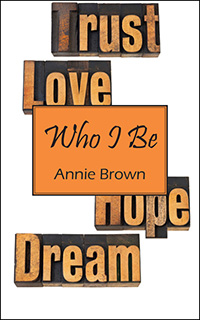 When most people look into a mirror, what they see is unsatisfactory—an image tainted by society's dictates of how we are supposed to look. We were made in the image of God, so why do we waste time and energy remaking ourselves to please others? Scripture has declared that we were wonderfully and fearfully made, but we would rather conform to society's image rather than be transformed into the image that God wants us to be. In the process, many of us lose ourselves and become someone we do not recognize. Who I Be is a call to action. Contemplate who you are, not who you think you need to be. The decision is yours—to lead a happy and productive life, or spend useless hours trying to be what you perceive will be popular with others. This thought-provoking book will have you asking yourself, "Who I Be?"
About Annie Brown

Annie Brown is the mother of four adult children, five grandchildren, and one great-grandchild. She is a licensed minister and serves in several roles at her local church. As a social worker, Annie works with the terminally ill, providing emotional support at the most critical time in an individual's life. It is important to Annie that everyone learns to love and respect themselves and enjoy the abundant life that Jesus Christ has provided.
5 x 8 paperback cream
Instant e-Book Download
Note: e-Books are for electronic enjoyment only. They may not be edited or printed.
Publication:
Sep 13, 2012