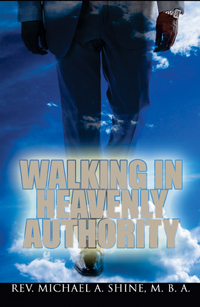 HAVE YOU EVER BEEN IN A PLACE WHERE IT SEEMS AS THOUGH LIFE CAUSES YOU TO QUESTION YOUR VERY EXISTENCE? WHO AM I? WHAT IS THE MEANING OF LIFE? HOW DO I HANDLE THE DAY TO DAY ISSUES THAT CAUSES STRESS? WE ALL CAN ANSWER YES TO THESE QUESTIONS. IT IS ONLY NATURAL TO HAVE FEELINGS OF THIS MAGNITUDE. THROUGHOUT THE BIBLE AND THE BEGINNING OF TIME MAN HAS QUESTIONED HIS AUTHORITY AND THE PROPER WAY TO HANDLE SITUATIONS. WE ARE NATURAL BEINGS CREATED BY A HOLY GOD WITH A SENSE OF PURPOSE. SOMETIMES THIS AUTHORITY CAUSES US TO ASK QUESTIONS WE TRULY DO NOT UNDERSTAND. MOREOVER,OUR STRUGGLES, TRIALS, AND SITUATIONS DO NOT NECESSARILY HAVE TO REMAIN THE SAME. WE HAVE GOD-GIVEN AUTHORITY OVER THE VERY PROBLEMS THAT SEEM TO PLAGUE YOU AND ME. IF WE ONLY KNEW HOW TO UTILIZE AND WALK IN THE AUTHORITY THAT GOD HAS GIVEN US WILL ELIMINATE MANY OF THESE SO CALLED "STRESSES OF LIFE." THIS BOOK WILL PROVIDE US WITH BIBLICAL PRINCIPLES OF HOW E CAN PROPERLY USE AUTHORITY AND TO ELIMINATE THOSE NEGATIVE AREAS SUCH AS: PRIDE, HATRED, JEALOUSY, RIDICULE AND DECEIT. AFTER READING THIS BOOK, IT IS MY PRAYER THAT YOU WILL KNOW HOW TO "WALK IN HEAVENLY AUTHORITY" AND NOT BE HINDERED BY THE NATURAL ISSUES OF LIFE.
There is a strange paradox about this book—it is not for everyone.It is only for those individuals who want a closer relationship with God.This book serves as an inspiration to equip believers in the walk of faith. It also causes us to recognize the place where God has set us. I feel it is the season for all believers to Walk in Heavenly Authority. The Bible teaches us that there is a time and place for all things (Ecclesiastes 3:1-8),Yes, saints, this is that time. Satan is using all the instruments that he has to exercise his authority over believers. We must know beyond any doubt that we are victorious by the blood of Jesus. Knowing what authority is in the biblical sense of the word is important for all saints. Many believers have been robbed, molested,and stripped of authority because of a lack of knowledge.My desire for you, the reader, is to learn to partake of the feast that God has laid before you and to exercise the gift that God has given you. Hopefully and prayerfully, this book will help you rise above the standard of mediocrity and reach a level of maturity in Christ. Apostle Paul lets us know in Ephesians 1:3-14 and 2:6, that we are special in the eyesight of God and because of our royal status, He sets or positions us in heavenly places. This is good news. God thought enough of us to place us in the position where He sits. - Rev. Michael A. Shine, MBA
About Rev. Michael A. Shine, M.B.A.

Michael A. Shine was born in Birmingham, AL. where he attended Carol W. Hayes High School and furthered his education at the University of Montevallo, (Montevallo, Alabama) where he received a Bachelors of Business Administration Degree in Sales and Marketing. He is a member of Alpha Phi Alpha Fraternity, Inc. In 1993, Michael received the call to the preaching ministry at First Baptist Church of East Boyles where he was licensed and ordained under the leadership of Rev. Clyde Beverly Sr. where he served in the capacity of Youth Minister for 8 years. He attended Birmingham Easonian Bible College for 3 years. He is currently a member of Ninevah Baptist Church under the leadership of Senior Pastor Will Goodman where he serves as an Associate Minister. Michael graduated from Capella University in Minneapolis, Minnesota with his Masters in Business Administration in 2008 specializing in General Business Administration and Business Strategy. He is currently employed by the City of Birmingham as a Project Manager under the Honorable Mayor William A. Bell, Sr. Esq. and a licensed realtor with Choice One Realty.
6 x 9 paperback cream
Instant e-Book Download
Note: e-Books are for electronic enjoyment only. They may not be edited or printed.
Genre:
RELIGION / Biblical Biography / General
Publication:
Aug 31, 2012