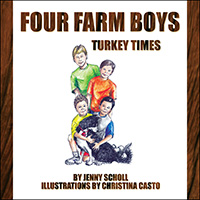 Meet Marc, Austin, Toby, and Todd. These four young boys growing up on the family farm are used to hard work. But they've never had a task like this before. They're about to get some very special animal guests—100 peeping baby turkeys, to be exact. The mission? Raise them from tiny chicks to full-grown, waddling hens and gobblers. But when an uninvited visitor makes an appearance in their home—scaring the birds and putting all of them in danger—the boys and their trusty dog, Flash, will have to act fast. Can they save the turkeys—and themselves—from harm, before it's too late?
Drawn from the author's real-life experiences, Four Farm Boys is a sweet and endearing tale of what it's like to grow up on a working farm. With gorgeous full-color illustrations, all of the hard work, fun projects, valuable family time and farm excitement come alive as the boys' tale reaches its climax.
Whether your family has farm roots or you've never left the city, Four Farm Boys will entertain, enlighten and teach youngsters about the land, wildlife, teamwork and bravery.
About Jenny Scholl. Christina Casto - Illustrations

Jenny Scholl and her husband moved from the city to a farm when their children were still young. There, she raised her four boys, serving as sports taxi, soccer and tennis coach, youth leader, farm hand, chief cook and home nurse. She lives in rural West Virginia.
8.5 x 8.5 color paperback
Genre:
FAMILY & RELATIONSHIPS / Activities
Publication:
Jun 28, 2010