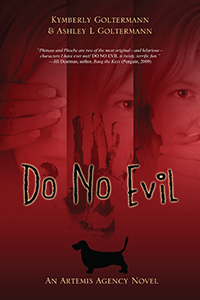 "The plot is thick and enticing, and the love interests are hot."
—Kat Marusak
Three years ago, Phineas Nobul was at the top of her game as a defense attorney in Los Angeles. When the Lair, New York native returned home from the holidays, she was surprised to find herself willing to give it all up for love. Now brokenhearted, nearly penniless, and once again unemployed, Phineas finds herself partnering up with her sister to take a second shot at success.
Phoebe, the eldest and more responsible Nobul daughter, envies her little sister's free spirit and loathes her unreliability. This is never more the case than when Phoebe finds herself dumped on her wedding day and her little sister nowhere to be found. When Phineas resurfaces and much wine has been consumed, she presents the heinous idea of Phoebe quitting her career in publishing to team up with her as private investigators. Phoebe rejects the idea at first but then sees this as a chance to start over.
Business is barely up and running when a corpse is left in the newly established Artemis Agency. A foreboding warning soon follows. The sisters don't know whether to be terrified or intrigued. As the bodies begin piling up, Phoebe and Phineas get caught up in a case of conspiracy and scandal that once haunted small-town Lair.
Add in an eccentric trigger-happy grandmother, a basset hound with an attitude, a hunky yet overprotective veterinarian, a mysterious cop known as Officer Yummy, and a very persistent killer and you've got one hell of a mystery!
"Phineas and Phoebe are two of the most original -- and hilarious -- characters I have ever met! DO NO EVIL is twisty, terrific fun."
--Jill Dearman, author, Bang the Keys (Penguin, 2009)
About Kymberly Goltermann & Ashley L Goltermann

Kymberly Goltermann lives in a lingerie storage unit on the outskirts of a small town that is to remain nameless due to reasons of witness protection. Her current career is classified information but her hobbies involve reenacting the Gore vs. Bush Supreme Court case and dancing naked under a full moon. While this is her first piece of literature composed on paper, her other works can be found written on her shower wall, where she does her best plotting.
Ashley L. Goltermann currently lives in the basement of a snow globe factory on Route 66 according to her CIA file. For work she shaves alpacas and breakdances. In her spare time she enjoys hunting for Quail with Dick Cheney and nude underwater hang gliding off the coast of Utah. She spends her weekends contemplating new and exciting ways to kill people—the more mess the better. She is currently working on her next book by shaving the words onto her cat.
You can email the authors at artemis.agency@gmail.com
Genre:
FICTION / Mystery & Detective / Women Sleuths
Publication:
Apr 29, 2010