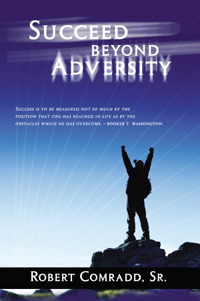 I wrote this book about my life experiences. In it I describe my life growing up in a segregated America and my participation in the Civil Rights movement. You will learn the positive and negative effects the military had in my life. I also talk about my business ventures and how they led me to devise new ideals for thinking like the rich. I give information on how to improve your credit score and stop debt collectors phone calls. Inside you will see how life's challenges can make you a wiser person.
The key to succeeding beyond adversity is knowledge. When you know better, you can do better. I also do speaking engagements and you can find me at www.comradd.com
Media Center
Press play to listen to audio excerpt...
"Never be too Proud" If you take away pride, you can conquer anything. Here I am with a college degree in electronics and computers and I am dumping garbage. Well, one day I drove downtown and saw people sleeping under bridges and on the streets. That's when I remembered to thank God I had a job. Sometimes, while working, I found myself trying to justify why I was cleaning up instead of repairing something. My manager informed me one day, "Robert, just look at it as just work. Eight hours is eight hours. You get paid the same whether you fix something or clean up." I could not say a word because she was right. There are so many people out of work and yet we have the nerve to feel sorry for ourselves because we do not have the "right" job. Pride doesn't pay the bills, send your kids to college, feed yourself, or provide shelter from the storm. You should help others who are worse off than you are. Only then will you see your life is good. I went home after work and went online to apply for an electronic technician position. I scanned the page to see what the starting pay was. To my amazement, it paid about $200 less then what I was earning as a housekeeper. I scanned down some more and saw a computer technician job available. It only got worse, because this job paid even less. I waited all these years in despair just to find out I was doing better than I thought. Now, when I dump the garbage, I pull out my pay stub and shout, "Man, I am the highest paid janitor in the United States of America. I guess Joe the Plumber is not the only star." When you change your perception, things look a lot better.
About Robert L Comradd Sr.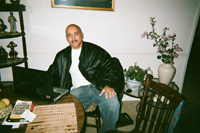 Robert was born in Sicily Island, Louisiana and later moved to Ferriday, Louisiana.
Even at the tender age of 10, after viewing Martin Luther King's funeral broadcast on television, Robert knew right then that he wanted to make a difference. He and his sister integrated an all white Elementary School in Ferriday, Louisiana. Robert's mother was active in the civil rights movement and encouraged him to do the same.
Eventually, Robert joined the military and even fought in the Gulf war. After leaving the military, Robert found it hard to find a civilian job even with all of his experience. It was then that Robert decided to define his own destiny. Robert earned a degree in electronics and landed a job working at a department store.
Robert was later introduced to Toastmasters Speaking Organization. This is when he knew his true calling. To encourage - and to motivate others to strive for success - and to never give up.
Robert hope his story will inspire everyone.
6.14 x 9.21 paperback
Instant e-Book Download
Note: e-Books are for electronic enjoyment only. They may not be edited or printed.
Genre:
SELF-HELP / Motivational & Inspirational
Publication:
May 29, 2009