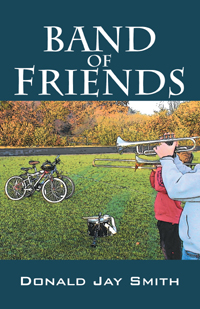 It sure wasn't Ronnie's choice to move from the only school he had ever known to find himself immersed in a very different town and strange new school. Ronnie rapidly discovers that the focus is clearly on him as the new kid while he is slipping into the life of an outcast and bully target. Fortunately, fate provides an opportunity for the new kid when his average trumpet playing in the old school's awesome band is better than this new band has ever heard and Ronnie rapidly earns a ticket to the "cool table" in his new Jr. Sr. High School band. Throw in a few crazy bike riding adventures, a fist fight in detention, an archeological discovery in the woods behind his new house, the championship football game spotlight, and Ronnie and his "Band of Friends" are set for new adventures around every corner.
Coming soon: "Band of Friends; Holiday Surprises" Ronnie's first holiday season in a new town has more surprises and twists than anyone could expect. You will get to know Ronnie and all of his friends better while you enjoy a thrilling ride through holiday concerts, family traditions, and a shocking discovery in the woods behind Ronnie's house.
Media Center
Press play to listen to audio excerpt...
Chapter 1

The Move



The day had finally arrived. The star on that dreaded date on our calendar was really here! We had never moved before, so it was difficult to know what to expect. I was a little excited, a lot scared, and extremely nervous about a completely different life evolving all around me at super high speed. My Dad had been transferred by his company. I'll never forget that awful night when he broke the news to me, my Mom and my sister Samantha that we would be living in a different place by November. It was definitely bad news! Of course my parents tried to make it sound like a good thing. But, now that that star on the calendar was one of the last things left on our walls, and that date had arrived, the reality of leaving behind all of my friends, my house and the special places that I like around my hometown, Chataqua, was really hitting hard.

I didn't expect saying goodbye to my best friend Danny would be so hard. Even though we would call or e-mail each other, it was hard to believe that I probably wouldn't be hanging out with him any more. His mom even threw me a surprise party yesterday! It was totally awesome! We had my favorite pizza, Danny's mom's homemade pineapple upside down cake, decorations and everything! Danny was a little shorter than me, but very athletic. Oddly enough, he was the only red-head in the family and was the kind of friend that brought out the worst in me. We took long bike rides exploring a widening perimeter around town (further than our parents would ever know about). We knew all of the potential bike jumps, short cut dirt paths, and dogs (AND people) that would bark at us if we came too close to their yard. Our neighborhood was very safe, but I was always surprised that Danny and I would explore the parts of town that weren't safe. Now that I think about it, those adventures were exciting and scary too, but not nearly as intense as the big move. At Danny's, his 8th grader sister Ellie gave me an unexpected goodbye hug. She had a really serious heart condition and sometimes she stayed out of sight and slept a lot. It was fun teasing her when she was feeling good, but I guess I never really noticed just how pretty she was until just then. It hit me hard that if she got really sick again, that might REALLY be the last time I saw her. Wow, that hug was strong and lasted longer than hugs usually last! She looked pale sometimes, which made it surprising how warm she was and how nice and soft her arms felt.
About Donald Jay Smith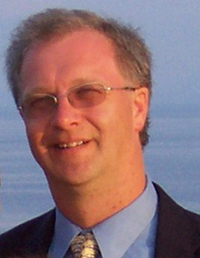 After surviving his own adventures as a member of the band in school, "Doc" Smith finds himself in his 30th year of directing school bands. After many successful years teaching at the high school and university level, the return to his first love, middle level teaching, has been both revitalizing and productive. With his bands consistently rated at the highest levels, Smith has enjoyed having his two sons and all of their friends as his students while actively publishing journal articles about innovative pedagogies he has developed. "Band of Friends" is Smith's uplifting first offering in a series of fiction books about the adventures of being in a school band program. As a state chair of advocacy for music education, the author has dedicated this book to all of the students that include music as part of their school day and promises to donate a percentage of all of his proceeds to the "Music for All Foundation" to support music programs nationwide.
5.5 x 8.5 paperback cream
Publication:
Dec 18, 2008