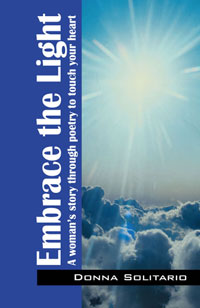 Award winning Author and Poetry Ambassador Donna Solitario enjoys motivating and inspiring youth and adults through her poetry,
Embrace the Light; a Woman's Story Through Poetry to Touch Your Heart; is a story poetry book. The author shares with readers a glimpse of her life experiences. A collection of inspirational poems which include: Spirituality, Family, friends, students, love poems, and adversities. To bring a message of faith, hope, love, and peace.
Donna is grateful to God who has gifted her with the ability to put her thoughts and feelings into poetic words to inspire others.
Heartache Heartache attached itself to the dark clouds Undying pain was left out in the rain Colors of black and gray on the face of a clown Debts of a longing soul flee it's pain Squandering the dust of a mist all around Heavy in the night it sustains Tucked deep within a dark and dreary state Reaching frantically to the pearly gates Blindfolded by any light behold the dreams Awakened by torment and the sound of screams Anguished feelings troubled thoughts Love crushed as memories rot Crying tears of wasted time One who awaits the healer for the mind Aching heart weak at the knees searching and reaching as one bleeds The fallen joy of sweet bliss Surrenders to memories kiss Desperation calls to the light As heartache seeks peace tonight
About Donna M. Solitario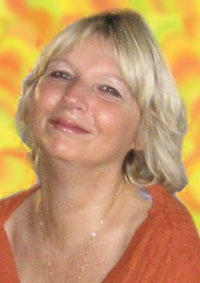 Donna Solitario grew up in Massachusetts. Currently Donna is a Instructor. She earned a Bachelor of Science Degree in Human Service, a certificate in Special Education, and a certificate in Substance Abuse.
Donna Solitario has won six Editor's Choice awards and has been published in six Anthology books.
A second book "Coming Home To My Heart" for inner peace, is now released and can be purchased on amazon.com and Barnes&Noble. This book is powerful with strong messages to her readers. With an emphasis on child and domestic abuse. Along with insigtht and spirituality.
Donna has worked with children, and youth for the past twenty years. She truly enjoys inspiring youth, young adults, and adults through her poetry.
Other projects she is involved with include: Poetry Ambassador, Mentor, and tutor.
Websites:
http://www.myspace.com/embracethelight7
See interviews and shows
http://thesop.org/index.php?article=1349 See Donna's new book! Coming Home To My Heart; For Inner Peace Website for new book: http://outskirtspress.com/DonnaSolitario A powerful book of Donna's life from childhood abuse, domestic violence, motivational and inspirational poems in verse and prose, sure to touch your heart.
5.5 x 8.5 paperback cream
Genre:
SELF-HELP / Motivational & Inspirational
Publication:
Dec 13, 2007