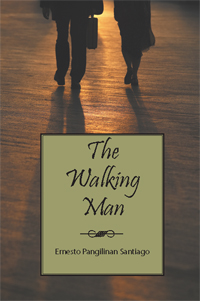 The Walking Man is a bilingual French/English book, a collection of my poems and my own composition of spiritual songs. Certainly, it's about poetry in general, with spiritual, uplifting and inspirational, love and other themes, that reflect man's life as he walks in this world seeking the things he need, beautifully written in different poetic forms and some poems are well-expressed in my very own invention – the "mixed rhyme", such examples of this poetic form are the "Text Me A Poem" and "Secret Of A Mango Tree". There are haiku and senryu poems, as well. And also, I included some of my favorite bible verses; and most certainly, my own experiences in life are also reflected in this book.
A Holy Kiss


A blessed greeting, intended, for all

How sweet it is, for, it comes from my soul
Of my acceptance, of you, depart not, from my call
Let not your ignorance, of me, betray your own soul
Your earthly knowledge, depend not, lest you fall

Kiss me in spirit, as I greet you, with a holy kiss
Inspire…and live in my righteousness, my body
Soul for soul, welcome me, with a holy kiss
So that you regain true life, being inside, my body



***

A Gun And A Rose

Gun is a gun and rose is a rose
The first is to kill, the other is to scent
If I must pick one, I'll choose the latter
For I can easily give it to my lover

***

Toi


Toi, flamme des vins exotiques
Magique des terres divines
Parfum du sang et seule pour mon coeur
About Ernesto Pangilinan Santiago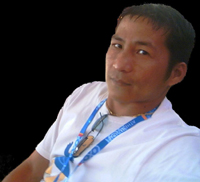 ERNESTO PANGILINAN SANTIAGO
was born in Solano, Nueva Vizcaya, Philippines, in 1967. He began writing poetry recently, and has since been constantly active in honing his craft. Mostly, he writes what he feels or whatever his mind wants him to scribe. He would like to think that
his poetry to be an eye-opener for others, stirring their minds and hearts. Of course,
he'll be happy, if, thru his writings he can influence other lives, for the better. His book, The Walking Man, is the first in a series of recent pursuits, with work progressing quickly on the follow-up.
He's a member of the Church of Christ (Iglesia Ni Cristo) and currently lives with wife Nitz, in Athens, Greece.
6 x 9 paperback cream
Instant e-Book Download
Note: e-Books are for electronic enjoyment only. They may not be edited or printed.
Publication:
Jun 22, 2007