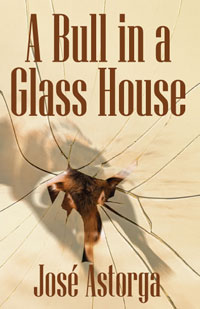 "Because life is too short to live every working day in misery"
A Bull in a Glass House is a manifesto. A former Marine's view of the corporate world and how employees must step up to the challenge of navigating its potentially treacherous roads by embracing change and relationships.
--For those about to enter the business world...preparation.
--For those currently engaged in the day-to-day struggle that is corporate America...guidance.
--For those whose every Sunday evening is the threshold of hell...motivation.
--For those who decide to act...reinforcement.
Readers of A Bull in a Glass House are provided with the benefit of hindsight including actual situations and quotes, and proven tips for future survival and success. Armed with this knowledge, the reader unlocks her personal arsenal to conquer the pitfalls and land minds inherent in any company. Armed with this knowledge, the gap between working perception and employment reality is bridged. Armed with this knowledge, success becomes a temporary illusion until the reader reaches out, grabs it, and makes it real-makes it his own.
A Bull in a Glass House is an intensely personal and passionate look at the inner workings of a corporation and how to succeed inside it from a former Marine who battled within its glass walls-and survived to write about it.
"A Bull In A Glass House" by Jose Astorga (a 47 year old former Marine who works every day to support his family in the private sector) has one clarion message for the reader -- life is far too short to spend every working day in misery. To avoid endemic and chronic workplace unhappiness, Astorga provides a personal perspective on how to go about achieving and maintaining both professional and personal success. A job can be a challenge, an adventure, a means of expression and achievement. It can also be a quagmire of frustration, of failure, of dehumanization. "A Bull In A Glass House" is a superbly written and deftly presented descriptive analysis of the paradox of corporate expectations and basic human behavior. Cogent advice is provided for avoiding the hazards and pitfalls that beset any corporate enterprise from incompetent bosses, to defective policies, to unrealistic expectations. Also available in a hardcover edition (1-4327-0400-1, $19.95), "A Bull In A Glass House" is informed, insightful, and inspiring reading that is recommended for anyone in business and a welcome addition to personal, professional, business school, and community library reference collections and supplemental reading lists.

Michael Dunford
Dunford's Bookshelf
October 2007
Midwest Book Review

He's a former Marine who climbed the corporate business ladder based on sheer bullishness and zero tolerance for bullshit, a student of the human condition, and just a guy whose thoughts you definitely want to read.
I left the USA in 1999, and I left big business in 1989, but Astorga immediately brings back all the memories of waste, stupidity, ego, inefficiency, and aggravation. I don't know about you, but I don't have time for that. Neither does Astorga.
It's not a sermon, by the way, because he'd be preaching to the choir. It's a practical guide on how to live in that world, how to reframe that world, how to succeed in that world. No wasted words here--this isn't a business meeting or mission statement--so it's a quick read packed with insight. Clear, direct, honest. His use of quotes and sample dialogues will make you laugh. This is a book that I recommend highly, no matter where you live or work.

Michael LaRocca
Author Editor
October 2007
www.chinarice.org

Featured Review: A Bull in a Glass House by José Astorga
Winning Workplaces review:

Power plus temperance equals wisdom is the theme of this book by José Astorga, a former U.S. Marine who has been working, surviving and managing his passion in a workplace with more or less unethical leaderships for more than two decades. When the plant he worked for was being closed because of reorganization, he rejected the opportunity to relocate. Instead, he finished this book, encouraging employees in Corporate America to step up to the challenge of navigating potentially treacherous career avenues by embracing change and relationships. The book outlines Astorga's building blocks for achieving success in any endeavor.
However, this is not just a handbook on employee survival. Rather, it is a former manager's discussion about how to build a winning workplace. "A combination of the firm leader who leads with empathy and compassion and the employee that performs with integrity and commitment will take the individual and the corporation to new heights," the author says. Current workplace leaders and people who see themselves as future leaders would especially benefit from reading this book.

Winningworkplaces.org
November 2007

Great book, once I started reading I just couldn't put it down and I finished it in one sitting.
I'll tell you what; this is the story of every one of us that has been working in Corporate America for some time. I could identify with every situation you described, and I could pin a name on every person discussed in your book.
The Appendixes are an awesome tool, and I plan on citing from them when I deliver presentations to my fellow employees and the regulatory agencies that I often deal with.

J. Alvarez
Environment Health & Safety Manager
New Jersey

…I picked up your book and thought I'd just read a little. I read the whole damn thing! My husband asked me if I was talking to someone because I could come up with an example at my company for almost everything you wrote and I was talking out loud. If you manage to get beer breaks instituted, let me know how to do it!

I have a friend who is in the executive MBA program... I'm going to loan him my copy of this book and tell him it's a must read.
My husband laughed at your Marine stories and told me similar tales.
I hope your book goes far and wide - it really needs to be read and taken to heart by a lot of people. I have some friends who had an executive book club - I'm going to find out if it is still going, and if so, will recommend they read it.

You did an awesome job - can't wait to read your next book!

J. Stacey
Corporate Attorney
Idaho

A Bull in a Glass House is a must read for anyone in the world of management. You do not have to be in the corporate arena to benefit from "The Bulls Rules". New managers as well as seasoned leaders from all different industries will glean usable information from Astorga's manifesto. This book would be a perfect addition to any business management class syllabus.
The author has a firm grasp on realistic management skills and is willing to share his recipe for success with readers. Astorga's writing invites you to navigate the ever changing waters of his professional career and along the way the reader picks up useful tools for his or her management tool box.

M.A. Canales RN, MSN
Nursing Coordinator
Pennsylvania

I've read A Bull in the Glasshouse and have found the book to be very entertaining while at the same time being informative. I must admit that before I bought the book I had my misgivings about any worthwhile information this book could contain for me or even if it was worth reading at all. You see, Jose Astorga is my brother and I said to myself "what am I going to read here that I already don't know?" Well, after a read the book I found out there's a lot more that I didn't know, not so much on a personal basis, but on approaching every day problems.
The book is a guide, if I may call it that, on how to approach everyday's problems, especially those at the work place, in a rational, logical, and humane manner. I place emphasis here on the word "humane". It's a survival guide for those that work for the corporate world, but it could well apply to just about any organization of employment. This book says things that most of us feel when confronted with unpleasant situations at work, but are afraid to react properly to those unpleasant situations. We, instead, become pawns in an ugly game; we turn into submissive tail-kissers. This book will show you how to properly confront those unpleasant situations (the shallow minded, the arrogant, the 'know it all', the incompetent manager, the slacker, etc.) so you can survive in the "Corporate" world or any other world.
This book is an act of love for anybody that reads it.

Roberto Astorga
IT Specialist
Florida
About Jose Astorga

In 1986, after three years in the Marines and a short stint as an armed guard, this former Marine secured a job in a growing company. He came armed with only a high school education and no skills, other than being an Expert Marksman in the Marines. José spent 20 years in an organization and ultimately became a student of the human condition wielding the written craft to enrich the mind and the spirit. José's last ten years in management provided an in-your-face, practical view of the paradox between corporate level expectations and behavior and the human need to fill the most basic of desires- security, belonging and respect. A Bull in a Glass House is the first in what will hopefully be a series of pursuits that will benefit the earnest reader.
5.5 x 8.5 paperback cream
5.5 x 8.5 hardback w/ jacket
Instant e-Book Download
Note: e-Books are for electronic enjoyment only. They may not be edited or printed.
Genre:
BUSINESS & ECONOMICS / General
Publication:
Jun 06, 2007