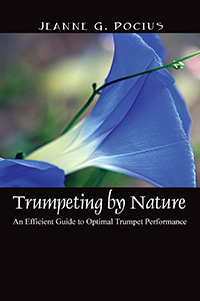 Discover the secrets to playing trumpet with ease, efficiency, control and finesse.
Trumpet Chop Doc Jeanne G Pocius shares her experience and wisdom about trumpet playing, performing, and teaching.
For more information, including sound clips of Jeanne's live performances and links to purchase CD's go to the following:
Jeanne G Pocius'
Website
Welcome to Trumpeting By Nature!
You can learn to play the easy, natural way, with
an efficient approach to playing the trumpet developed by Embouchure Specialist, Teacher and Acclaimed Trumpet Performer Jeanne Gabriel Pocius!
About Jeanne G. Pocius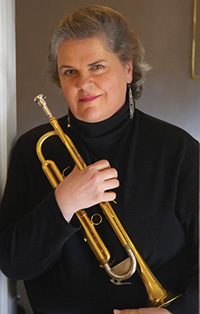 Jeanne Gabriel Pocius, known internationally as the "Chop Doc," is a recognized authority and clinician on trumpet playing, performance, embouchure analysis and pedagogy. She has provided expertise to thousands of trumpeters throughout the world through Internet trumpet/brass websites and forums. Pocius is also an accomplished trumpet virtuoso having studied under William Vacchiano of the New York Philharmonic and Dan Patrylak of the U.S. Marine Band. She has played lead trumpet for Aretha Franklin, Sergio Franchi, The Temptations, at the Montreal and Anguilla Tranquility Jazz Festivals, and for Bob Hope, and many other name acts. "Trumpeting By Nature" is the brilliant culmination of her teaching and performing careers.
6 x 9 paperback cream
6 x 9 hardback w/ jacket
Instant e-Book Download
Note: e-Books are for electronic enjoyment only. They may not be edited or printed.
Genre:
MUSIC / Musical Instruments / Brass
Publication:
Mar 18, 2007