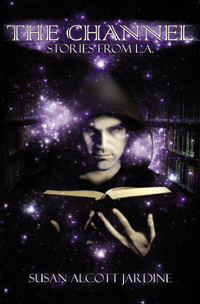 In The Channel collection, Los Angeles becomes the tapestry against which ten stories unravel. They take place from the early 1950s to the not-too-distant future. Each of the protagonists experiences life altering dilemmas. Some are unprepared for their reversals. Others are not. How well they cope is for you to determine.
"Susan Alcott Jardine writes with intelligence and insight. She is a born storyteller whose narrative draws us to the dimly lit corners of imagination."
-Gary Sturm, author of "The Secrets of Time" and "Dreamers and Other Stories"
"Jardine is a master of the unexpected. Her collection of stories (The Channel: Stories From L.A.) skillfully captures the unique social and psychological landscapes that define Hollywood. There is also just a hint of the mystical accompanying her profound emotional insight. Don't miss this one!" -Iris Mann, freelance journalist
"Riveting! A must read page turner. She truly awakens our curiosity, what greater gift can we ever receive? I feel blessed and honored to endorse this project."
-Margaret Mary Fitzgerald, teacher/channel/author of "The Lost Gateways" and "Nine Portals to Inner Ascension; A Workbook"
"If the Beach Boys were still writing songs the way Susan Alcott Jardine writes stories, we would have a top-ten hit every time – and I'm not just whistling 'California Girls.' Read 'Don't Go Into The Killing Place' and you will experience her extraordinary depth as a storyteller." -Al Jardine, of The Beach Boys
"One of the marks of a fine writer is the ability to invoke a feeling within the reader. To be able to make one laugh aloud or draw tears from the well is remarkable magic. Such magic is pulled forth by Jardine's 'The Channel,' which calls up forgotten and beloved memories of people from my past – and stirs a consciousness and appreciation for the NOW."
-Pierre O'Rourke, host to authors & celebrities in Arizona. Author of "Free the Puddles" and "Dog Gone! The Fire Hydrant-way to Heaven."
Media Center
Press play to listen to audio excerpt...
"The fires had taken everything. The sky was ablaze with red and orange embers being whipped up by the powerful Santa Anas that were moving north from Los Angeles."
About Susan Alcott Jardine

Recipient of First Place Fiction in the Dorothy Daniels Honorary Writing Award for "Hello, You've Reached Amy Byington," sponsored by The National League of American Pen Women; and awarded Honorable Mention in the Writer's Digest Mainstream/Literary Short Story category for "Run For the Money," Susan Alcott Jardine and writing partner Marc Havoc were also awarded the Writers Guild of America, West Inc. Foundation Award for their screenplay "Lullabyeland."
Susan lives with her husband Neal and rescued cats in Sherman Oaks, CA.
GreenDoorEditions.com OutskirtsPress.com/SusanAlcottJardine
6 x 9 paperback cream
Instant e-Book Download
Note: e-Books are for electronic enjoyment only. They may not be edited or printed.
Genre:
FICTION / Short Stories (single author)
Publication:
Oct 15, 2009