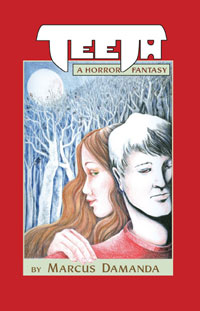 It starts with the death of two little girls, and for the quiet suburb of Fairview, Virginia, the weekend is only just beginning. It's the winter solstice. The Damworths, a travelling gang of young killers, are in town, and they're here to party. But even their leader is unprepared for his youngest recruit to do the one thing that Damworths never do: fall in love. In TEETH, a new author brings three unlikely characters together to awaken an evil as old as Cain--and to escort you through a night so long, you may never think to see the day again.
Media Center
Press play to listen to audio excerpt...
The last thing he saw was her face ... her eyes and her terrible teeth.

She came up as though for air, breathing heavily, rapturously. Her eyes had rolled over white, jubilant and wickedly blind. Her teeth were pink, dripping with red, narrowing into points even as his vision faded. Four of them, the top and bottom canines, grew longer and sharper than the others ...
About Marcus Damanda

Marcus Damanda writes science fiction, fantasy, and above all, horror stories. He currently resides in Woodbridge, Virginia, teaching middle school English and mining his nightmares for his next foray into fictitious suburban mayhem.
Instant e-Book Download
Note: e-Books are for electronic enjoyment only. They may not be edited or printed.
Publication:
Jul 15, 2007