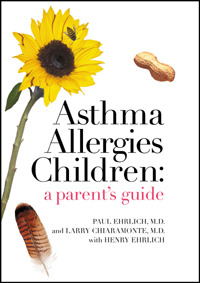 I enjoyed Asthma Allergies Children tremendously. It is full of the kind of great stories that teach both patients and doctors more than mere facts. The science is explained in language you don't need an MD to follow. This book should be kept right next to the antihistamines and epinephrine, and used even more frequently.
--Dr. Lisa Sanders, author of Every Patient Tells a Story. Her NY Times column "Diagnosis" inspired the TV drama, "House MD."
Two renowned, board-certified pediatric allergists report from the front lines of science and clinical practice. Asthma Allergy Children: A Parent's Guide is published in conjunction with the launch of AsthmaAllergiesChildren.com. If you can't find the answers here, you can find them there, or you can ask the authors yourself.
The book explains what allergies and asthma are, and why they are expanding. You will hear about the myths and realities of treatment, and how you can involve the whole family in making life better for your allergic/asthmatic child. Myths and realities of food allergy. Charts of medications. Alternative treatments. How the environment at home and in your neighborhood affect your child's health. How a pediatric allergist can reduce your child's dependence on medication or end it altogether. Strategies for busy parents. And much more.
About Dr. Paul Ehrlich, Dr. Larry Chiaramonte, Henry Ehrlich

Dr. Paul Ehrlich is clinical assistant professor, New York University School of Medicine, and founder of Project E.R.A.S.E., serving asthmatic children in inner-city public schools in New York City. He has made the New York Magazine Best Doctors in New York list consistently for more than a decade.
Dr. Larry Chiaramonte is Clinical Assistant Professor of Pediatrics at the State University of New York, who concentrates on asthma relating to ground zero and high-risk populations in the South Bronx.
5.5 x 8.5 paperback white
Instant e-Book Download
Note: e-Books are for electronic enjoyment only. They may not be edited or printed.
Genre:
HEALTH & FITNESS / Allergies
Publication:
Jun 30, 2010