6 x 9 hardback w/ jacket

ISBN: 9781432718848

$26.95

Instant e-Book Download

$5.00

Note: e-Books are for electronic enjoyment only. They may not be edited or printed.
| | |
| --- | --- |
| Genre: | FICTION / Historical |
| Publication: | Mar 31, 2008 |
| Pages: | 316 |
The award-winning author of three consecutive Denver Post bestsellers sets his sights on the seas in the pre-Civil War period and brings it to life with a cast of unforgettable characters in a rousing sea-faring tale of courage and determination, love and loss, loyalty and betrayal.
Still excited by the recent discovery of gold in California but torn by the slavery issue and fearful of an impending war, Americans in the mid-1850s watch proudly as the United States forges to the forefront in building and launching a fleet of swift and breathtakingly beautiful clipper ships, the envy of all sailing nations. Into this exclusively male domain steps 18-year-old Elizabeth Godwin, the strong-willed daughter of an affluent Boston merchant. Determined to shape her own destiny, Elizabeth makes a stunning decision that will forever alter her life.
The quest for ever-fast sailing vessels is at fever-pitch when Elizabeth meets David Chance, captain of the sleek clipper, Neptune's Chariot. On a voyage that takes them around dangerous Cape Horn to San Francisco, China, the slave coast of Africa, London, and finally home to Boston, Elizabeth battles the crew's traditional suspicions of a woman aboard the vessel and, in the process, discovers a world she never before experienced—and the woman she was destined to become.
In a tale inspired by a true event, Elizabeth, David and a cast of wonderfully-drawn characters recreate an almost-forgotten period in America's glory years of tall ships.

Boston. Late May 1855.

Shrouded by a morning fog, an ebony brougham stood at the curbside in front of a stately Beacon Hill mansion. From the entrance to the house, Elizabeth Godwin watched in silence while a servant helped the carriage driver load a small mountain of luggage onto the carriage's rooftop.
Elizabeth's father paced near the carriage, bellowing orders. "Be careful with those trunks, you fools," Cedric Godwin shouted. "If you break anything, I'll have your hides."
The loading completed, Elizabeth waited until her parents boarded the carriage and her younger brother, Tom, climbed to a perch alongside the driver.
"What in Heaven's name are you waiting for, Elizabeth?" her father shouted. "The ship won't wait for us."
Reluctantly, the young woman walked to the carriage, climbed aboard, and seated herself opposite her parents. Her father's face wore the smug expression of a merchant on the verge of closing a profitable deal while her mother, Agnes, a once-handsome woman, met Elizabeth's gaze with sadness. Mother's aged recently, Elizabeth thought. She looks older than Father.
The family seated, the driver urged the horses away from the curbside, their destination Boston's busy waterfront. The air was damp and chilly, the skies leaden, weather appropriate for her state of mind, Elizabeth concluded with bitterness. Recently turned eighteen, she wanted desperately to stay home and pursue her education. But her father would not allow it. Instead, he insisted she accompany the family on a month-long stay in England, her parents' homeland.
She sat in silence while father prattled on about the impending voyage. She wanted no more to go to England than did the two runaway slaves recently captured in Boston wish to be returned to their Virginia owners. Like the slaves, Elizabeth thought, she had no choice in the matter. She was oppressed by the memory of the slaves at this very moment being marched, shackled and helpless, to the waterfront by the state militia. At least thousands of people were expected to line the streets to protest the slaves' fate. There was nobody to protest on her behalf.



About Irv Sternberg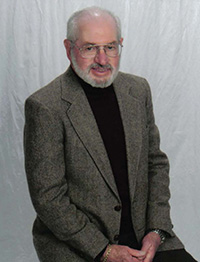 A former journalist and public relations manager, Irv Sternberg is the Denver Post best-selling author of the popular Clint Jagger thrillers, Deadly Passage and Sakura's Stratagem, under the pseudonym, Mark Irving. He is also the author of the Izzy Brand mystery, No Laughing Matter, under his own name. Neptune's Chariot is his first historical novel. He and his wife live in Colorado.