7 x 10 paperback

ISBN: 9781432790097

$38.95

7 x 10 casebound

ISBN: 9781432796464

$47.95
| | |
| --- | --- |
| Genre: | BODY, MIND & SPIRIT / Healing / Prayer & Spiritual |
| Publication: | May 08, 2012 |
| Pages: | 838 |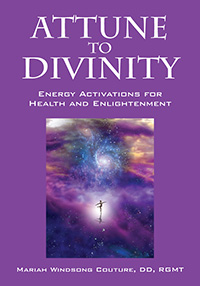 Attune to Divinity attends to many areas of your life, body and spirituality, helping you to improve your well-being and increase your conscious connection with Divinity. The energy systems and functions provided are useful to people of many spiritual traditions and paths, as well as to those seekers who have not yet found a life path which resonates with them. The attunements are similar to Reiki, and grant you doses of energy that "attune" you, like a radio, to a certain spiritual energy frequency. When you are attuned to many of these energies, you have spiritual tools to use in all areas of your life. With these energy systems you can increase what you want, and drop away or minimize the impact of what you don't want. With just a thought, you can set your mind to rest upon and activate any of the streams of energy you've been attuned to. Forces of Divinity extend their assistance to you in a personalized way. Attunements give you a greater sense of spiritual energies to fortify your life force and faith. Hands-on and long distance healing techniques are described in detail. Learn more about yourself and how to call upon Divinity to repair the pathways between you here in your body, your higher self and soul. Whether you use this book merely for its self-examination and spiritual-edification techniques, or for devotion and meditational guidance, it grants you new ways to ask yourself questions; the answers to which will greatly enlighten you.

Inner Truth Reiki Excerpt: It is important to know what you believe and to live your life according to what resonates as truth for you, not what others tell you. Please spend a few minutes to invite your attunement of Inner Truth Reiki, to release fully unto you. Simply say out loud or in your mind: "I ask to fully receive my Inner Truth Reiki as founded out by Mariah Windsong and made perfect by Eternal Sacred Source, NOW!" Think of a ball of light and energy above your head that opens up and streams down into the top of your head. Your attunement will easily arrive to you because Eternal Source is not limited by space or time. The Inner Truth Reiki flows into your body and energy field, into all of whom you are, helping you recognize your own truth. Now that you have paused to receive your attunement, you have the right to call upon and activate the various energy functions that your one attunement to Inner Truth Reiki has given you the rights to activate. These are: Inner Truth Emergence, Conflicting Beliefs Resolution, Inner Truth Compass, and Inner Truth Enhancement. Emotional Balm is also included to assist your emotional body as you sort through what is truth for you. Sometimes it can be a big shift in positioning when you realize your own truth and discard other people's truth from the core of your being. Divine Provision Reiki Excerpt: When you are ready accept a Divine Provision Reiki intensive session please recline and be prepared to allow from 12 to 33 or even 45 minutes for your session. Say, out loud or in your mind: "Dissolver Shakti! Assist! Arrive and dissolve away all limiting beliefs, perceptions, connections or pathways that are not in my highest joyful good! THANK YOU!" If you are sensitive to subtle energies, you will likely feel an energy flow, or the sense of you being busy 'behind the scenes'. You might not notice anything at all. If you feel something happening, allow some time to pass so that Dissolver Shakti can work while you are physically still. Yes, energy pathways are being worked on, but you are a spiritual being. You are made of energy and the connections from 'there' to you 'here' do indeed connect into your physicality. Pretend you are in surgery, and simply relax. You may want to get up and drink some water, get a snack and use any necessary facilities and stretch your body, before going on to the next step. 7 Now, say, out loud or in your mind: "Tikkun Shakti! Assist! Arrive and repair all the connections and pathways through which my provisions arrive and any pathways that initiate such provisions to arrive! Please repair any other area of my life that affects my receipt of blessings, money, supplies, and provisions or benefits of any kind. THANK YOU!" Once again, simply relax and allow this session to occur. You may or may not be aware of anything 'happening. You can listen to relaxing music or a book on tape if it is enjoyable. Please, no television or holding of a book as it is desired that your body go into full relaxation, including your eyes. Now it is time to activate your Influx Upgrade Empowerment! Simply use the name as a command! This function is wonderful to use often! Each time you activate it you will be upgraded to the next highest possible Influx Upgrade Empowerment! Simply say, out loud or in your mind with strong positive feeling: "Influx Upgrade Empowerment Activate!" This happens quickly and while some people do enjoy basking in the feeling, there is not necessity to wait any length of time before moving on. Your next step is also one function that can be activated any time after your initial intensive session. Flow Pulse Harmonization Field! Say, out loud or in your mind: "Flow Pulse Harmonization Field Activate!" Divine Provision Reiki level 3 provides the Financial Provision Divine Protection Field to protect both the income pathways you've created and repaired, as well as the provisions you already have in your life. A Continual Maintenance Ray tends these pathways to be sure they remain flexible and strong. An Increase Flow Dial gives you added freedom to increase or decrease speed of your work inflow.



About Rev. Mariah Windsong Couture, DD, RGMT



Mariah is an established founder of spiritual healing and protection techniques. Her dedication to sensitizing herself to Divinity caused her to cloister away from public life in Maine. Now she brings us the findings of her sacred seclusion for both the advanced healer and those new to energy work.