6 x 9 paperback cream

ISBN: 9781432788377

$11.95

Instant e-Book Download

$5.00

Note: e-Books are for electronic enjoyment only. They may not be edited or printed.
| | |
| --- | --- |
| Genre: | RELIGION / Christian Life / Inspirational |
| Publication: | Mar 22, 2012 |
| Pages: | 183 |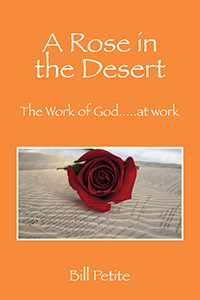 In October of 1981, the National Training Center at Ft. Irwin, Ca. was opened as a training facility for US Army units. The work force was civilian, government contract employees. This work force was involved in, among other evil and detestable practices, drug use, alcohol use and sex…..while on the job. It was a playground for Satan and his followers. This is the last place anyone would expect to hear anything about God. But, God soon began a work that would touch the hearts and lives of the extremely Godless people in this place. God turned the Track and Wheel Shops at Ft. Irwin into a mission field. Starting with one man, God began a revival in this work place that saw many get saved and go on to various ministries and the mission field. This movement eventually grew into a weekly, organized Bible Study that is still thriving and seeing lives changed. This book tells the true story of how Jesus came into this place of work and saved people from their despicable, evil lifestyles of sin. This work of God, which exists among the various lifestyles of this workforce, truly stands out like a rose in the desert.

Paul Stanton had been saved for about six months when he came to the Tank Yard as a new hire. He had been driving a beer delivery truck and the conviction was too great after he was saved so he quit. He had no other job prospects but knew that the Lord didn't want him doing that so he trusted God to provide and He did. Paul's brother-in-law, Butch, worked in the Tank Yard and was able to convince the supervisor to give Paul a job as a mechanic. Paul trusted the Lord, when he quit the beer delivery job, to provide for him and the Lord brought the next job right to his door. Butch showed up at Paul's front door with the shop supervisor and after the introductions were made the interview consisted of, "Do you want a job?" and Paul's response was, "Yes". He was hired on the spot and started as a mechanic, something which Paul knew next to nothing about but God had a plan for the Heavy Track Shop and other parts of this contract at Ft. Irwin and the first part of that plan was Paul Stanton. There were a couple of other Christians in the Tank Yard before Paul showed up but these weren't the people that God had in mind for turning this place right side up (not upside down, it was already upside down!). So, God's missionary showed up in the Tank Yard with a big Bible under his arm; it wasn't that big but in the Tank Yard any Bible was big. It was clear that most of the guys didn't want him around and he was assigned to the worst work performing crew in the yard. I was coming in the gate one morning and the assistant shop supervisor was telling me about how Paul was not well accepted by most guys in the shop and by his own crew particularly. I was a crew leader at the time and remember saying something to the effect that there was nothing wrong with Paul and that the guys should cut him some slack and there was nothing wrong with him being "religious". Well, this was all part of God's plan to work in my life because the next thing the supervisor said to me was, "Then why don't you take him on your crew, I'm sure you and your guys will get along with him." Well, the line in the desert sand had been drawn and I was being dared to jump across that line. So, being the bold, not afraid of trying anything leader that I was, I said, "Ok." I had walked right into that one and as an unsaved heathen drunk with too much pride to say no, God had me right where he wanted me. At times I think about that conversation and smile because I know it was God who was guiding the conversation that morning and He knew my pride would not allow me to say no. But, I also had a place in my evil heart for "religion" since I had been in church as a child and had three uncles who were Evangelical Bible teachers/preachers. So, I was being sandwiched between my pride and my idea of doing the right thing or the good thing and not knowing that neither would save me and I didn't care. I told the rest of the crew we were getting another man and they seem to think it was alright until Paul joined them and began to talk about the Lord. Now, understand that Paul was not trying to force Jesus on anybody; he didn't stand in one spot all day and just talk about God or read the Bible out loud or preach to these guys. It wasn't like that at all; in the process of the daily routine or in the process of doing their job, Paul was always able to relate to the Lord in everything that went on and he wasn't afraid to tell them when they asked questions about why he would or would not do certain things or why he wouldn't say certain things or agree or disagree with different ideas or lifestyles. Just the fact that he was present made some people unsettled; he didn't have to say anything and they thought he was talking about God too much. One of the guys cornered me and wanted to know why he talked so much about God and if I felt the same way (sometimes I did). I was standing outside of the hooch one day when a couple of the guys approached me about Paul and Buddy. They seemed to think that Paul and Buddy spent far too much time inside the hooch talking about God and church. Their comment to me was, "Why don't we just put a steeple on the hooch since they spend so much time talking church and the Bible!" The stage was set, God's plan for this slime pit was beginning to take place and He was beginning to work in the hearts of some of these guys and they didn't even realize what was going on. I would sit and listen to Buddy and Paul talk about Bible doctrine and certain scriptures and the seeds that had been planted years before when I was very young began to be cultivated and it wouldn't be long before the harvest was ready. Paul had been spending a lot of time witnessing to Ernie and I was paying very close attention. Ernie and I had been friends for a while and had played softball together and drank a lot of beer together. He came to the Tank Yard right out of the Army and was assigned to my crew. He was a very good worker and was very intelligent when it came to doing his job. I began to notice that Paul and Ernie were spending a lot of time talking about the Bible and I was beginning to feel left out so I was listening while they talked. It wasn't long before Ernie accepted Jesus and the seeds in my heart had been cultivated and harvested through listening to Paul and Buddy talk and also listening to Paul as he witnessed to Ernie. I had the idea that if Ernie could start reading the Bible and talking about God then so could I. It was kind of a competitive thing and God used it to reach my heart although that was just the beginning. It would take a few more months before I would fully surrender my life to Jesus. I had come to Jesus by listening to somebody else being witnessed to; I always tell people that Paul was witnessing to Ernie and I got the overspray. As I had listened to what Paul had to say, I knew in my heart it was true and I knew what I had to do and after many years of neglecting the truth of the gospel, I finally accepted the fact that Jesus died for me and He is my Savior!



About Bill Petite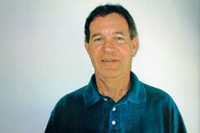 Bill Petite lives in York, Pa. with his wife, Jeanne. He has a Bachelor Degree in Theology from Freedom Bible College and Seminary and is employed with the Department of Defense. For twenty years, Bill has served in various leadership positions and has performed pastoral duties within the Calvary Chapel Fellowship of Churches.