6 x 9 paperback cream

ISBN: 9781432774486

$24.95

6 x 9 hardback w/ jacket

ISBN: 9781432775780

$39.95

Instant e-Book Download

$5.00

Note: e-Books are for electronic enjoyment only. They may not be edited or printed.
| | |
| --- | --- |
| Genre: | BIOGRAPHY & AUTOBIOGRAPHY / Personal Memoirs |
| Publication: | May 26, 2011 |
| Pages: | 201 |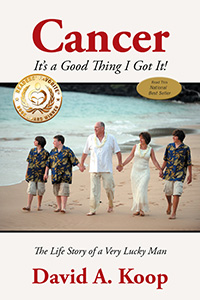 David Koop had it all—a storied business career, beautiful son, and prospects as far as the eye could see. Then a surprise cancer diagnosis turned his life upside down. It was osteo sarcoma—a form of bone cancer—and it was growing on his spine. Doctors told him to get his affairs in order. More than three years later, Koop continues to beat the odds. Cancer: It's a Good Thing I Got It! is his eye-opening account of a remarkable journey through hospitals, treatments, friendships and emotions as he struggles to maintain a positive attitude and will to live. In this frank and uncensored look at one man's battle with cancer, Koop reflects on his life before and after the diagnosis. The surprising conclusion will leave you awed at the strength of the human spirit: far from a death sentence, the medical woes unleash a powerful self-assessment that leads Koop to a whole new sense of purpose—and the love he has sought all his life. Full of humor and occasional grief, this memoir of a life still in progress will move you to make changes for the better. You'll come away inspired to live your life to the fullest and embrace the gift of personal relationships. And you'll find hope for meeting the unexpected challenges that can strike when you least expect.

Media Center

Press play to watch the video...





Press play to listen to audio excerpt...







About Top 10 Bestselling Author David A. Koop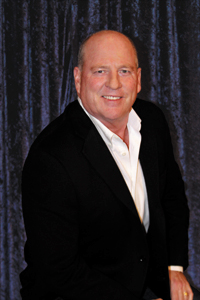 David A. Koop is a bestselling author, motivational speaker and a certified world class speech coach. His pioneering prepaid legal business made him a nationally known expert in the 1980s. In a storied career, he has run numerous companies involved in the manufacturing, viticulture, Christmas tree, third-party administration, and reforestation industries, among others. His business acumen has made him a sought-after keynote speaker, appearing on ABC's Good Morning America and numerous national radio shows. An avid traveler and sailor, Koop lives with his family in Salem, OR. For more information please visit our website. www.somedaygroup.com