6 x 9 paperback cream

ISBN: 9781432732073

$13.95
| | |
| --- | --- |
| Genre: | RELIGION / Christian Life / General |
| Publication: | Oct 05, 2009 |
| Pages: | 106 |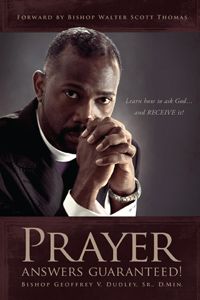 Reading this book will change your prayer life forever. Reading this book will get you answers from God guaranteed! I know that is an audacious statement to make. I do not make it without a healthy dose of theological "fear and trembling". I am aware there is always the possibility of a book over-promising and under-delivering. To that end, I make the statement based on sound biblical study and theology. I do not make the statement based on a belief in a fancical "name it and claim it" theology which is drawn from whimsical wishing. I also make the statement based on experiential data rooted in the day-to-day living of people like you and me. Are you ready for your life to explode? Did you know every explosion requires a fuse? Prayer is the fuse that lights the dynamite. However, prayer is not the first thing we think of when we think of explosions in our spiritual lives. And "pray tell" to coin a phrase, that is why many of our lives are lifeless and powerless. We do not pray. We are not unlike the disciples who asked Jesus to teach them how to pray. Someone said no great thing ever happened without it being preceded by prayer.

It is time for you to find and use this weapon of mass destruction "WMD" – and blow Satan out of your lives. Satan is banking on you not reading this book. He is hoping you put this book beside the stack of books you plan to read. Then you will not learn what I am about to teach you. Satan wants to hold you captive to sadness, despair, defeat, poverty, powerlessness, sin, weakness, ignorance and a life of mediocrity. Prove him wrong! Light the fuse and obliterate his power over your life.

As far back as I can remember prayer has been a part of my life. The youngest of 11, son of a preacher, who pastored small rural churches early in his ministry, I remember hearing my parent's powerful prayers echoing through our house. That was commonplace. It seemed like trouble and struggle was always part of our lives and prayer was the anecdote. No matter what obstacles and problems the crucible of life created, I heard the constant refrain from my parents, "we need to pray", and "prayer can change things." Prayer became basic and fundamental to my being.



About Bishop Geoffrey V. Dudley, Sr., D.Min.



Bishop Geoffrey Vincient Dudley, Sr. D. Min is from Goldsboro, NC. He is the youngest of eleven children born to the union of Bishop Leamon Dudley, Sr. and the late Ida Dorothy Dudley. He gave his life to Christ at the age of twelve and began preaching at the age of thirteen. He is married to the former Glenda D Jones of Spring Hope, NC; they have two children: Mahogany Kneecoal and Geoffrey Vincient II. Bishop Dudley earned a BA from the University of North Carolina at Greensboro; MHR from the University of Oklahoma; Ed.S. from the University of Memphis and both M.Div. and D.Min. from the Samuel DeWitt Proctor School of Theology at Virginia Union University. After 21 ½ years of service where he lived and ministered in many states and several countries, he retired as a Chaplain, Lieutenant Colonel Air Force.



Bishop Dudley is the founder of Changing Lives Ministries where he provides ecclesiastical covering, leadership development, and mentorship to the following ministries and churches:



• F.A.I.T.H. International Ministries, O'Fallon, IL

• New Life in Christ Interdenominational Church – Abidjan, Cote D'Ivoire, Africa

• New Generational Christian Church, St Louis, MO

• Word in Season Ministries, Warner Robins, GA

• Progressive Church, St Louis, MO

• Chaplain (Captain) Kenny Neal, USAF

• D.I.V.A.S. Fellowship and Outreach, O'Fallon, IL

• Chariti House, Belleville, IL

• Bread of Heaven Ministries, Ft. Wayne, Indiana

• New Freedom Church Ministries International, Ft. Wayne, Indiana



He is the founding pastor of New Life in Christ Interdenominational Church. Since its start April 2003, it has become the fastest growing church in the St Louis/Metro East area. Lifechangers, as they call themselves, are over 2300 strong; and committed to "Changing Lives in their Lifetime!"