5.5 x 8.5 color paperback

ISBN: 9781432765699

$12.95

Instant e-Book Download

$5.00

Note: e-Books are for electronic enjoyment only. They may not be edited or printed.
| | |
| --- | --- |
| Genre: | JUVENILE FICTION / Animals / Cats |
| Publication: | Nov 24, 2010 |
| Pages: | 22 |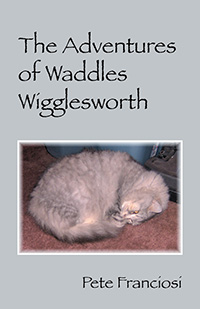 A love for cats and dogs, not wanting to see unwanted pets suffer to starvation and the elements… Miss White cradles them in her arms and gives them the chance of the love and security that every pet deserves! This story is about a stray little gray kitten found outside Miss White's window one evening. You will be introduced to several of the precious lives that were touched by Miss White.

The Adventures of Waddles Wigglesworth Book Review by Courtney (7th grade) Do you love to read books about animals? If so, I have a recommendation for you! The Adventures of Waddles Wigglesworth is a wonderful story about a lost kitten, found wet and cold by Miss White. Named Koala, the kitten grows from a desperate kitten into a twenty-three pound tiger cat! This book is great for children of all ages. If you love animals, you will be sure to love this cute book. <<< >>> Review by Nathaniel (7th grade) I would recommend this book to anyone who likes animals and has pets of their own. It hooks you in immediately when you start reading. Questions begin to form in your mind: Will the kitten be okay? Is Miss White nice enough to take this kitten in? By the end of the book all your questions will be answered. I highly recommend it. <<< >>> Review by Lukas (7th grade) This is a story about the friendship between an animal lover and a lost, hopeless cat struggling for survival. It was a rainy day at Miss White's house when she heard what sounded like a kitten crying out in the rain. The kitten was standing under a pine tree, cold and freezing with shivers. Will the kitten be taken in? Can Miss White take care of yet another lost animal? How will this story end? You'll have to read to find out! I would recommend this book for children of all ages. If they love animals, they will be sure to love this cute book. <<< >>> Thank You Miss Patti and your 7th grade class! Book review: The Oracle Newspaper By Skylar Khan The Adventures of Waddles Wigglesworth By Pete Franciosi. Adorable would best describe this new book about a little cat's adoption into a family home. Intended as a children's book, it would probably also be a perfect gift for adults who are adopting a new member into their midst. On a deeper level, Pete Franciosi reminds us that extra room can always be found where the heart is engaged. Whether a family welcomes a new pet or child into their midst, there are adjustments to be made by all, ego needs to be brushed aside, and a little good will goes a long way. Sweet pictures of various pets accompany the storyline throughout The Adventures of Waddles Wigglesworth. I, for one, am looking forward to reading it with our grandchildren.



About Pete Franciosi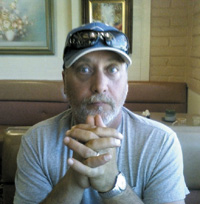 I'm a simple man with a strong love for God and His creations! I was inspired by my wife to write this story. She is a "stray magnet." By that, I mean, any homeless animal in the area always managed to find its way to her. At the time we had three cats and five dogs that she took in because she couldn't bare to see them hungry, lonely and afraid. She referred to them as her "kids" and they responded to her in kind. I wrote this story about one of the cats and thought it would make a nice children's book.