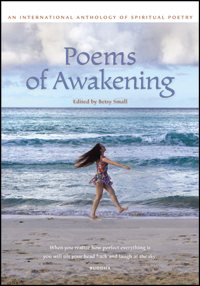 Poems of Awakening is an anthology in which poets speak about experiences of living joyfully in the moment and sensing themselves as part of what Walt Whitman calls "a vast similitude" which "interlocks all". The book includes both ancient and modern works by Kabir, Hafiz, Shih-Te, Anna Swir, Walt Whitman, e.e. cummings, Wendell Berry, H.D., Mary Oliver, May Sarton, Li-Young Lee, Jane Hirshfield, Thich Nhat Hanh, Naomi Shihab Nye and many others.
The sections of the book are organized to reflect a spiritual journey:
I: My Body Effervesces
II: A Deep Quiet—Stillness and Light
III: Now I Become Myself
IV: Healing and Renewal
V: May My Heart Always Be Open —
VI: How A Beautiful Day is Spent
VII: The All-Surrounding Grace
Praise for Poems of Awakening:
"In today's world, we all need many sources of inspiration, and Betsy Small's Poems of Awakening is a deep one. The poems, and the feelings they evoke, appeal to the best part of ourselves. Highly recommended for yoga practitioners and anyone who aspires to continue to live with an open, joyous heart in the midst of challenges."
—Judith Hanson Lasater, Ph.D, PT, yoga teacher since 1971 and author of eight books including Yogabody: Anatomy, Kinesiology
"Poems of Awakening is a carefully chosen collection of inspiring poetry from all over the globe. These poems help me remember what is true and real."
—Danna Faulds, poet and dedicated practitioner of Kripalu Yoga, and author of four books of yoga poetry: Go In and In; One Soul; Prayers to the Infinite; and From Root to Bloom
"As a Senior Kripalu Yoga Teacher I teach that one must first set the tone for each yoga class and finding just the right reading or poem can at times be a task. Betsy Small's, Poems of Awakening takes the stress out of finding the right poem for a class or any occasion. Her innovative 'linked sets' guide the reader to the sense of spirit they are seeking. This is a beautiful work compiled by an effervescent yogini."
—Maya Breuer, Director, Santosha School of Yoga, In the Kripalu Tradition
"As a practitioner and teacher of yoga and meditation, it is exactly the kind of book I've been looking for."
—Leza Lowitz, author of Yoga Poems, Lines to Unfold By
"Betsy Small's prodigious collection of poems is a treasure. . . The poems touch the heart, invite self-examination and welcome profound emotional response. Betsy has organized her anthology in sets of poems that reflect her own spiritual journey, summoning the reader to travel a poetic path of deep awareness and personal growth."
—Peggy Osna Heller, MSW, Ph.D., poetry therapist and author of Word Arts Collage: A Poetry Therapy Memoir
"What a joy it is to find so many beautiful, moving, edifying poems in one place!"
—Al Zolynas, poet and editor of The Poetry of Men's Lives
"Poems of Awakening is a gift to yourself and all those you love and serve."
—Amy Weintraub, author of Yoga for Depression and founder of the LifeForce Yoga Healing Institute