5.5 x 8.5 Paperback

ISBN: 9781598000849

$19.95

Instant e-Book Download

$5.00

Note: e-Books are for electronic enjoyment only. They may not be edited or printed.
| | |
| --- | --- |
| Genre: | RELIGION / Inspirational |
| Publication: | Sep 07, 2005 |
| Pages: | 280 |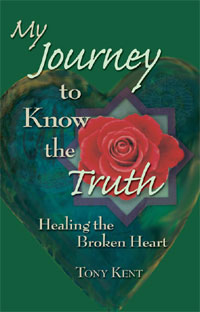 Leading what appeared to be the ideal life, successful
in business and happily married with four children,
suddenly the author's life fell apart. Broken-hearted,
desperate and finding no answers from traditional
therapy, Tony looked elsewhere. In Jerusalem, he met his guide, a man who taught him powerful spiritual practices based upon surrender to the love of God. This surrender eventually took him to the healing of his broken heart and the promise of a new life. In sharing his journey, and these teachings, may you also find healing for your heart.
"If you are lost, hurting and alone, the love and sincerity of this book will revive you and bring you home. Watch as your pain and hurt disappear to be replaced by the serenity and peace of Divine love. Tony Kent has touched the heart in all of us who are seeking to end our suffering and find true and everlasting peace."
ùRobert Jaffe M.D., D.D.
Director: Jaffe Institute of Spiritual and Medical Healing

Media Center

Press play to watch the video...







Have you ever had a broken heart? Have you ever felt abandoned, rejected, deserted or simply not accepted by someone you loved? Have you ever been divorced, a single parent, or simply have a relationship end when you weren't prepared for it to end? Have you been broke, or bankrupt, lost a job or unable to find one? Have you ever been hurt, emotionally, physically or spiritually? Have you ever lost someone you love? Have you questioned your faith or has it been shattered? Have you had low self-esteem or felt like giving up?

If you answered yes to any of these questions, then I think you will find we share a common ground, and you might find some help in this story. I was (I thought) a happily married man, with four children, living what appeared to be a fairly idyllic life. I was a successful fashion photographer living in Santa Fe, NM, in a wonderful house on over 5 acres, with a dog, horses, tons of other household pets and with all of us experiencing a healthy and vibrant life.

I was raised in an upper middle class environment, attended private schools, went to church on Sunday, and had traveled much of the world. I had explored all the religions, lived in France for over two decades, worked for most of the top magazines and felt pretty content with myself and my life.

Then suddenly everything came apart. My wife, the mother of my four children, went through some powerful changes within her self, met another man, and decided it was time for her to move on. My life was turned upside down, my heart was shattered, my spirit was almost broken, and I went through some painful and dark experiences. I found myself alone with my four kids; rendered what felt completely dysfunctional from the pain, having no desire to work, and using every ounce of strength I had to just get through each hour. I used up all my life savings, basically gave up photography, had no idea how I was going to live or what I was going to do. I started seeking different counsel, going from therapists, to shamans, to Buddhists monks, Christian clergy, Tarot readers, astrologers, psychics, reading any book I could get my hands onà desperately seeking a solution. I would have stayed with any one of the paths, if I felt it offered me relief from my pain and solutions to my challenges.

But none of them did. I think one of the main reasons I didn't stay with one of them was that I never met anyone who walked one of those paths whom I felt actually was an authentic guide ù until I met the man I will be introducing to you. I'm not saying there wasn't anyone, just that I never met them. I first embraced the teacher, then the path. So this story is about the man I embraced, and the path I took that brought me to a new life. This is my journey to know the truth. And perhaps because our journeys are often similar, my story will be of value to you in understanding your life.

How does one go on living when the heart is broken? Where does one find the courage to live when love hurts so much they can hardly breathe? When traditional psychology appears to be of no help, where does one turn to find the help? When the crisis is more spiritual than emotional, how do we find someone to guide us?

These questions and others are all addressed is this personal story of self-exploration. I was devastated by the break-up of my marriage and my heart was shattered by my wife leaving and falling in love with another man, and what had appeared to be a perfect tapestry of an almost perfect life, slowly began to unravel. The picture of what had been was gone, and all the threads were in a pile on the floor, and I had no idea whatsoever of how I was going to manage the crisis.
(All following in italics are quotes from the book)

"This is a story about love. It is written from love, to love, for love, by love and with love. It is about love. It is about what I love, whom I love, how I love, why I love and what I have discovered about love. It is mostly about teachings I love from someone I love; someone who has opened my heart to knowing love in a way I never knew existed, and how he and these teachings and this love have changed my life and my self in ways I could never have imagined. And it is also how this person and his teachings guided me to be able to open my wounded heart and be able to love againà.."


"When our love is blocked, we experience pain, and there is nothing more painful than blocked love. Often I feel that people think the pain they are experiencing is because they are not receiving the love they seek, where the real source of the pain is that their own love is blocked. As we were created to be a natural extension of Divine Love, when we close our heart to the flowing of this love, we are not living in the flow of who we were created to be. Personally, when I went through a very painful separation from my wife of over 20 years and the mother of my four children, I was convinced that the pain I was feeling came from the fact that she had stopped giving me the love that I was seeking. I was so hung up on getting the love from a particular face, that I could not experience the joy of other's love. This period lasted for more than four years, and was probably the saddest and most depressing time of my life. By the same token, it provoked such an immense spiritual crisis that it led me out of desperation to àà."

And so begins the story. Where this pain led me was to the holy city of Jerusalem and into the presence of the most unique person I have ever met. Through his gentle and loving ways I was exposed to the heart of the Sufi traditions of the Shadduli path. Sufism is the mystical branch of Islam that has grown so popular all over the world, especially through the magical Sufi poetry of the Rumi. The man I met, Shaykh Muhammad al-Jamal ar-Rifai is known to all his beloveds as Sidi, and is to me the highest expression of divinity I have ever encountered in the human body.

"He is the President of the Higher Sufi Council in Jerusalem and the Holy Land and a teacher at the holy mosques at al-Aqsa Mosque He is the author of over a dozen books, lives on the Mount of Olives in Jerusalem, is a family man with six children, and is quite simply, not who most people think he is.

When I first met Sidi his teachings were not even in book form. They were kept on sheets of paper in his Zawiyah (a place of religious retreat) in Jerusalem, and the only way to take any of these teachings away, was to spend the necessary time writing them by hand. At that time Sidi was what is called a "hidden teacher", someone who was not easy to find, and who had not felt permission from Allah to share his self with the world in the manner he has now started to do.

As far as I am concerned, Sidi is still a "hidden teacher" as very few people are really aware of what he carries, or of who he is, and many of those who do know him, only know a small part of him. Can you know the desert from seeing just one grain of sand? Can you know the ocean from just one drop? Our experience of him is limited by our own level of understanding and expression. It took me time to get to know even a part of him, and so I have chosen to reveal him to you bit by bit as well, so please be patient and let me set the stage for you a little before you get to meet him."


Now, his order has changed. His teachings are available to all who hurt, who seek, who hunger. This story takes the reader to the essence of those teachings, to Jerusalem, the land where all the prophets walked, into the home of Sidi and into his heart. In the book, he guides me, and anyone who wants to place themselves at my side, step by step to experience the truth of their human existence.

"Love is the basis of all that Sidi teaches. What he calls Tawid, which is affirming the unity of God, is the heart and soul, the basis of everything I have learned from him. He is so constantly occupied with the essential unity of all creation, that one cannot help but be aware of this, and it awakens our own desire to experience our origin and the truth of our existence.

Just as when Allah created the world as a place of manifestation of the endless possibilities of His own limitless and Divine Being, Sidi manifests for us the endless possibilities of our own greatness."


When we learn to manifest more of our own potential greatness, as we let our light shine, we serve as an inspiration to others, especially to our own children. Carl Jung once said that "nothing so affects the life of a child as a parent's unfulfilled life." The time that I spent with Sidi in Jerusalem on that first visit, is shared in detail with the reader, as are the teachings. I feel that Sidi guided me to once again open my heart and love, just as he has done with countless others. I can now say I feel I lead a very productive life which I believe has been a powerful example for my four children.

Let me invite you to meet the greatest living teacher that I have ever known. Learn about the beauty and the inner teachings of Sufism- truths that embrace the wisdom of all the Prophets of the Holy Land- and discover the essence of the true Islam.

"As we are all one heart, one body, one mind, one soul, if you can understand me, you can understand yourselfà."


I believe that as you share with me my journey you will find many things about your own heart that will be of help and bring clarity and fullness. Here is a sample of just one of Sidi's talks to me during that visit.

"Plant the seed of the deep and the real love in your heart, Salih, and nurture this seed with the living water of the remembrance. Then this seen will grow into a tree of love and this tree will give you fruits of its own. This tree of love gives its fruit to everyone without asking why or what, without looking at their color or their religion because every human is the brother and sister of every other human being whether they like it or not, that is a fact of life. This is the Sufi way. This is the message that every prophet carried and this message gives to every human being knowledge of their own reality. We must all say no to wars, no to killing, no to destruction and burning of homes, and no to the destruction of humanity. And we must say yes to the peace, and the love and the mercy and the justice. We must take away the resources destructive to humanity and put those resources into things that are beneficial to humanity. Put our resources into things that are useful. To help those in need of the basic things they need to live. And we can do this by planting the seed of love in every heart that we can encounter."

"It is time for you to return home and carry this message. Do not throw your love upon things that do not feed your heart. à

"Allah loves you more than you love yourself. And I will be always with you. I will not leave you for one second."

"I will travel with you in all your stations and your states. I feel deeply all that you feel. Stay away from the pictures which come at you from every direction, both from the outside which are easy to recognize, and from the inside which are much deeper and more subtle, and more difficult sometimes to leave, because they lie there, hidden and covered over with many layers which cover them from our eyes. The eye of Allah sees everything, and He shows me, and I will help you build the house of Allah in your heart."

"There are many people crying and suffering in the darkness. Allah puts His beloveds to be the lamp for everyone who has the eyes to see, and to help them see a way out of the darkness of the dunya (material world). Give the message for the beloveds in America. Many, many people are very thirsty to know the truth of the real Islam, the religion of unity of all the prophets. I ask Allah to keep me to be His slave and give me strength to give. We are all from one father and there is no difference between black and white, slave or king. All of those are from clay and they return to clay. It is very important for everyone to love one another and help one another, and not fight and be one people under the flag of the real Islam. This message carries the reality of the essence of Allah, it carries the complete message, what everyone, all people, they need. The prophet, peace and blessings upon him, never said or taught to kill women and children. If anyone kills one person its like he killed all the people. If someone gives life for one person it is like he gives life for all people. This is Islam. This way is not for killing but giving life. All the real sons of Abraham, Jew, Muslim or Christian, follow this tradition. I carry the message of the peace and the love and the mercy and the justice. This is the message direct from Allah, through my heart, and I give it to everyone who seeks to know the truth about their existence."

Care about yourself, my beloved son. Leave everything else but Him and His way; follow every minute the messenger and helper He sends. Follow this way to be in the garden of the love and the peace and the mercy. I ask Allah that He shows you the straight path without which there is no real life for us."

I hope this small "taste" of this great teacher inspires you to want to know more. He carries a message that is as old as time, and also a message whose time has come.

















About Tony Kent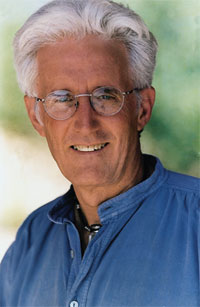 An international photographer for 25 years, the author worked for Elle, Rolling Stone, and Vogue. He also pursued the American dream—until his wife left him with a broken heart. After many attempts at healing, he met his Sufi master from Jerusalem and learned timeless wisdom that would reconstruct his life.