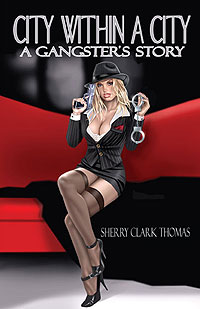 This is a story of an independent gangster named Joe Pastronoco (Joe, Jr.) aka Joe Thomas who was raised from childhood in a criminal environment. His father Joe, Sr., and his father's brother Salvatore were bootleggers during the 1900's and they both were gangsters involved in a secret organization similar to the Mafia in Italy when Benito Mussolini was dictator.
Salvatore was shot and left for dead in Italy but he managed to escape, and he came to America as a stowaway, lived on a farm and sent for his brother Joe, Sr. who left Italy with his wife and five siblings to live with him.
The entire family ran an illegal bootlegging and numbers business at his farm during the Prohibition days. Joe, Jr. accepts his father's criminal lifestyle as an ordinary day, and under the influence of his father and uncle he gradually turns into a seasoned criminal. He becomes a drug dealer, runs a lucrative prostitution business, and he branches out into other crimes.
This tale takes on an astonishing turn of events with an unusual spiritual intervention that protects Joe throughout his life, and by some unknown spiritual means is recognized by his father at his birth and he names his son "The Chosen One."
City Within A City is going to give you a glimpse into the criminal mind and a terrifying insight of what prison life is really like. Raw, gripping, prison letters are exchanged by Joe and his last wife, Sherry, that are filled with deep emotional pain and humiliation.
Joe marries 9 times. Sherry Clark becomes his 6th and 9th wife. She is a woman who is blinded by love and endures abuse beyond belief by his hand and gives up her soul for the love of a man who gives her nothing in return.
It is not only a detailed account of a criminal lifestyle, but it is also a powerful and compelling love story.
If you don't wish to order on line you may order from your local bookstore's website or buy on Kindle.com, Mobipocket.com or Discoverabook.com.
To contact author:
E-mail Sherry5442@aol.com for any comments your would like to make or request additional information.
Media Center
Press play to listen to audio excerpt...
City Within A City-A Gangster's Story

Author: Sherry Clark Thomas.

A tell all book of the life of a criminal, his prison stays, his love life and an amazing interaction with the spiritual world that was part of his life since his childhood.

This is a most unusal crime story. It is laced with sexually explicit details, intrigue, drugs, prostitution, Mafia connections, and abuse. It will also take you to the limits of what a man does to survive to live as a criminal and how he becomes a chameleon to people around him with so many personalities that no one is the wiser of who he really is. This story will also show you the limitless boundaries a woman will go to when she becomes trapped in the charms and lifestyle of a seasoned felon. The truth is stranger than fiction in this raw, human story.
About Sherry Clark Thomas

Sherry Clark Thomas was born in Sarasota, Florida. She married Joe Thomas, the man who authorized the contents of this book. He is now deceased. She has two daughters, Angela, Joe's biological daughter, and Darlene from a previous marriage. She also has a grandson, Steven. Sherry married Joe Thomas twice. She was his 6th and 9th wife. She writes poetry as a pastime and has published poems in "Footsteps in the Sand" (1996) and "Frost at Midnight (1996). They are also included in this book as a memorial to her husband, Joe, and her father, Vito.
.......NEW YORK TIMES-BOOK REVIEW......2007.....
If you loved "The Godfather" you will be entertained by this book.
5.5 x 8.5 paperback cream
5.5 x 8.5 casebound glossy
Instant e-Book Download
Note: e-Books are for electronic enjoyment only. They may not be edited or printed.
Genre:
TRUE CRIME / General
Publication:
Aug 24, 2007