5.5 x 8.5 paperback cream

ISBN: 9780578073378

$15.95

5.5 x 8.5 hardback w/ jacket

ISBN: 9780578074344

$26.95
| | |
| --- | --- |
| Genre: | SELF-HELP / Motivational & Inspirational |
| Publication: | Dec 17, 2010 |
| Pages: | 168 |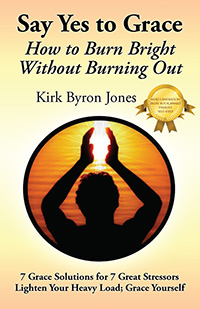 Many are living on the frazzled edge: overstretched, overbooked, and about to snap. From overburdened caregivers, to overloaded students, to overstressed workers, we need help burning brightly in the world without burning out. Say Yes to Grace to the rescue! Defined by one grateful reader as "an herbal medicine for the soul," Say Yes to Grace provides seven grace remedies for seven great stressors: 1.Fatigue—Learn to Rest. 2.Low Self-Esteem—Live from Acceptance not for Acceptance. 3.Disappointment—Loosen Strings to Needs and Expectations. 4.Hurry—Live at a Sacred Pace. 5.Worry—Claim Your Inner Calm. 6.Unhappiness—Balance Aspiration with Contentment. 7.Fear—Believe in God Beyond "God." In a warm hearted, compassionate, and supportive book, bestselling author, Dr. Kirk Byron Jones, provides liberating ideas and life-changing practices that will help you balance rigor with respite, performance with pause, and human grit with divine grace. Live Lighter; Say Yes to Grace! www.sayyestograce.com

We Bless the World Best When We Rest Many have difficulty taking time to play, pause, and rest because they see it as being selfish. Whenever they do break, they are constantly haunted by feelings of guilt and the need to return to action as soon as possible. If this is your predicament, I want you to carefully consider a major shift in perception: Not taking time to rest is selfish because lack of rest insures that the world rarely sees you at your best. Your non-stop lifestyle does not serve your interests and the interests of others as well as you may think. Living on limited rest gives the world a limited version of who you are. Being in the world constantly fatigued and chronically stressed offers the illusion of your actual presence, at best. Just because you are in attendance, it doesn't mean that you are present. We may be in attendance here or there, but when we are weary and worn, we are not wholly present. A real danger is that we can get so used to living tired, we never get a sense of who we are at our freshest and fullest. Some of us are so used to living on an "empty tank," it's hard to even imagine what living on a "full tank" feels like. Yet, living full, flourishing, is your natural calling as an energized and empowered spiritual being. Our challenge is to reject fatigue and embrace vitality as our living norm. Moreover, living rested and well is precisely what will insure your best offering to the world no matter what your labor in life may be. Learn to live full. Love the world enough to rest. A rested you means that the world will see you at your finest. Not resting is the selfish act. Resting is not a sign of failure, negligence, or weakness; it is an act of unsung benevolence. We bless the world best when we rest.



About Kirk Byron Jones



Author of several bestselling books, including Rest in the Storm, Addicted to Hurry, and Holy Play, Kirk Byron Jones, D. Min., Ph. D, travels around the United States and abroad spreading a message of sustained creative empowerment through continual soulful renewal. A pastor for over twenty years, Dr. Jones teaches at Andover Newton Theological School and Boston University School of Theology. You may visit him at www.kirkbjones.com. Special Word from the Author: My calling as a pastor, teacher, writer, and publisher is to inspire persons to manifest the finest, freshest, and fullest expression of themselves--to freely and joyfully live and play their unique humanness and "God-ness." Say Yes to Grace: How to Burn Bright Without Burning Out is a collection of doable strategies for optimal creative expression in a tremendously challenging and stressful age. No generation has had to confront so much, so fast, so often. Yet, if we commit to just a few liberating practices, we all can soar and thrive no matter what our calling in life. Though my theological foundation is Christian, persons from varying religious and spiritual heritages may be blessed from a writing presentation that resists dogmatism, and celebrates wisdom wherever it may be found, including various religious traditions, and especially poetry and Jazz! Finally, I know that with the completion and offering of each book, my work may be finished but the book is not complete. I hope that you purchase Say Yes to Grace and finish it--with your experiences, thoughts, and, most of all, questions.