Writing & Publishing Kits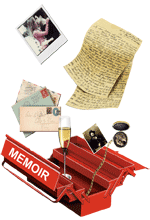 Do you want to preserve your personal history for your children and grandchildren? Only you know the events of your life that have molded you into the person you are today. One of the most valuable things you can pass on to your family is your personal memoir. The Memoir Writing Kit will walk you through the entire process from start to finish so you can share with your family all of your cherished memories. Scroll down to Product Details for more information.
---
Is it time to leave your legacy? Do you want to share your life story with your family to pass down from generation to generation? Do you need help remembering the details or organizing your memories into a structured book?
The Memoir Writing Kit from Outskirts Press offers 140 pages of memory-provoking questions to help inspire you. Simply answer the questions in complete sentences, remove the questions themselves, and your memoir practically writes itself!
The structure of the Memoir Writing Kit is roughly chronological, beginning with "The Dawn of Life" and ending with "The Sunset." The years between are organized by similarly themed chapters, ranging from "Childhood Holidays and Celebrations" to "Serving My Country" to "A Taste for Life."
Everyone's life is different. The beauty of the Memoir Writing Kit is that it is flexible enough and comprehensive enough to help any writer start and complete their memoirs, no matter what sort of life you have led. If you were not in the military, simply delete the "Serving My Country" chapter. If you played professional sports, simply add more details and anecdotes to the "Pastimes & Sports" chapter.
Chapters include:
The Dawn of Life

City, County, State, and Country

First Family

Childhood Friends and Events

Childhood Holidays and Celebrations

First Days of School

Serving My Country

College Days (and Nights)

Starting a Career

Significant (and not-so-significant) Others

Starting and Raising a Family

Spiritual Matters

Pastimes & Sports

Politics and History

Continuing Career

Empty Nest


Overcoming Adversity

A Taste for Life

Ready for Retirement

Growing Old Together

A Mature Look at Life

Remembrances

The Sunset
The Memoir Writing Kit is a Microsoft Word 2003 file, so be sure that is a compatible format for your computer before purchasing the Memoir Writing Kit.
In addition to the questions, The Memoir Writing Kit includes some pre-written text to put each chapter into context. You are free to use and/or modify this text as you see fit. If you retain any of the text and/or questions within the kit, you understand that Outskirts Press retains the rights to their materials and are granting you a limited license to include that material in the body of your memoir. You retain all the rights to your original material.
Important Delivery Details:
Once you click the Add to Cart button and complete your purchase, your Memoir Writing Kit will be immediately available for instant download within the "My Toolkit" area of your Publishing Account. The file is approximately 300kb.
---