Complete Hollywood Screenplay (down payment)
This is a down payment towards the total cost of a professionally-written, feature-length Hollywood screenplay. Once you pay the down payment, you will be put in touch with your scriptwriter to arrange the additional details and the remaining payments for an additional cost of $9,940. Scroll down to Product Details for more information.
Published Outskirts Press authors, save $1000 on this option by logging into your Publishing Center.
Hollywood "Screenplay" is the ultimate plan for authors who want to see their book up on the silver screen. That's right. With this option, we write your screenplay for you and you keep all your copyrights. What's more - we put you in touch with our own industry connections, including a production company and Hollywood producer. Once completed, your screenplay will be represented in an effort to secure optioning or purchase by a Hollywood studio. This is the ultimate solution for getting your book on the big (or small) screen. How is that for exposure?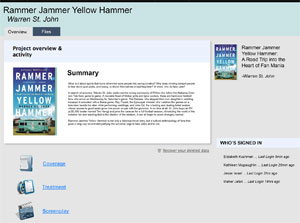 You will receive a full-length screen play -- written to meet the specific needs of the medium you choose (TV, film, etc.) and the genre of your work.
Your screenplay will be written by a Hollywood scriptwriter and will go through numerous reviews by both you and a credited Hollywood producer to deliver to you a final draft of quality and promise.
Once completed, your screenplay will also be submitted to a searchable Hollywood database, used by other studios, executives, and producers seeking materials to pitch, option, or buy.
Plus, as a bonus, an exclusive 3-year effort will automatically be set into motion by a Hollywood production company to option your completed screenplay with Hollywood studios, producers, and/or stars. Just imagine! Your own screenplay making the rounds in Hollywood as a hot property.
How much is it worth to you to get your book in front of the same Hollywood insiders who, combined, have worked on some of Hollywood's hottest properties, including:
Compare all the services of our "Book Your Trip to Hollywood" Suite, side by side, to pick the best one for you...
Option Name

What to Submit

Producer
Review

Producer Feedback

Added to Hollywood Database

Est. Turnaround Time*

Price

Treatment

Published Book

Yes

7-10 page treatment

Yes

9 weeks

$3,299

Screenplay

Published Book & Treatment

Yes

Screenplay length varies

Yes

6 months

$11,940
* We will make every effort to deliver faster, but these options are time-intensive, require the participation of busy professionals, and are fulfilled on a first-come, first-served basis.

Before ordering Screenplay, you must have purchased either the Action Plan or Treatment; and by adding this option to your cart, you agree to the following: