Hollywood Book-to-Movie Treatment
If you believe your book would make a great movie or television series, the next economic step is often a Hollywood Treatment of your book. And when you book your trip to Hollywood with the Outskirts Press treatment option, a true Hollywood producer at a real Hollywood production company will be involved in contributing to and reviewing your treatment. Scroll down to Product Details for more information.
Published Outskirts Press authors, save $300 on this option by logging into your Publishing Center.
A Hollywood treatment is a thorough outline or creative roadmap for a literary property's adaptation to screenplay and is a crucial component if you want your book to be taken seriously by Hollywood. A Treatment enables an author to demonstrate to entertainment decision-makers how his/her story might unfold on screen and helps Hollywood truly envision the material as they consider a purchase/option of the property (book).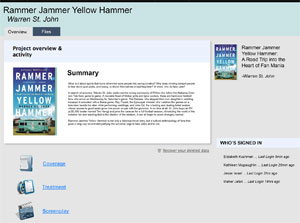 When a Hollywood studio or producer is looking to "option" a property (i.e., a book) they will typically make the decision based upon either a treatment, a screenplay (script), or both. Having a professional Treatment written is typically the logical step to comprehensively see if the Hollywood Screenplay option is a worthwhile investment.
You will receive a 7-10 page creative adaptation by a screenwriter that focuses on story and characters. As an adaptation, some story points and/or characters may be altered somewhat in order to give your book the best chance for Hollywood interest. Treatments are the creative framework used by busy Hollywood decision-makers to transform your book into another medium. In short, treatments are a fast, efficient way for Hollywood executives to picture your book as a movie or television show in a "language" they understand.
A well-composed Treatment can sometimes even turn an average property into a "Green Light" at a studio or production company.

Included with the Treatment option:
Up to 3 different industry loglines: short catchy phrases that describe your story and quickly capture the attention of potential buyers

Producer assessment

Rationale (why choices/decisions were made so they can be addressed by the author)

Creative treatment of your book, focusing on story/plot lines, main characterizations, etc.

Recommendations of what you can do now to make your story more attractive to Hollywood

You keep all your rights to your book and the Treatment.
On top of all that, your treatment will be studied and evaluated by a credited Hollywood producer, which might include consideration for optioning. Your treatment will also be submitted to a searchable Hollywood database, used by other studios, executives, and producers seeking materials to pitch, option, or buy.
Plus, as a bonus, an exclusive 3-year effort will automatically be set into motion by a Hollywood production company to option your completed treatment with Hollywood studios, producers, and/or stars. Just imagine! Your own treatment for your book making the rounds in Hollywood as a hot property.

How much is it worth to you to get your book in front of the same Hollywood insiders who, combined, have worked on some of Hollywood's hottest properties, including:
Compare all the services of our "Book Your Trip to Hollywood" Suite, side by side, to pick the best one for you...
Option Name

What to Submit

Producer
Review

Producer Feedback

Added to Hollywood Database

Est. Turnaround Time*

Price

Treatment

Screenplay

Published Book & Treatment
* We will make every effort to deliver faster, but these options are time-intensive, require the participation of busy professionals, and are fulfilled on a first-come, first-served basis.
Author testimonial
"In a nutshell, the content of the Treatment was truly awesome. The professional team of writers compiled a comprehensive, succinct summary of my novel 'Downside Road' to my entire satisfaction missing nothing, and gave invaluable suggestions on how more emphasis on protagonists could be made, in addition to their enhancemnt of the complete story by adding additional conflicts to make it even more poignant. I'm really chuffed and can't wait to see the professionally-written Hollywood screenplay."

- Jerry Turner, author of Downside Road
This Treatment is a prerequisite for ordering the Screenplay; and by adding this option to your cart, you agree to the following: