| | |
| --- | --- |
| Home » Top 10 Radio Interview & Media Training | Thursday, May 23 |
Top 10 Radio Interview & Media Training
Price: $499
Option Details:

Are you looking for a turnkey, simple way to book a guaranteed radio interview on a popular radio show? Have you always dreamed of being interviewed on a renowned radio program that has interviewed the likes of Forbes Magazine and Wall Street Journal executives? Would you value media training in the form of professional feedback? This option is your answer! Scroll down to Product Details for more information.

Published Outskirts Press authors, log into your Publishing Center to save up to 25% when ordering.
Your story deserves to be told and your voice deserves to be heard, all as professionally as possible. 20-year radio veteran Kevin Price, who has been called "the best business radio show host in the country" by the Wall Street Journal, will help you sound good before, during, and after your own author interview in a Top 10 Radio Market.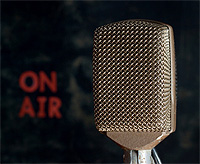 As a fellow author, Kevin knows what it takes to sell books on-air. He will provide you with helpful information before the broadcast, and then during the interview he will guide your interview - making sure to ask questions that will help you introduce your book to the right audience.
His radio program, Price of Business, is one of the longest-running news talk radio shows with content often broadcast throughout the country. It has been featured in the Wall Street Journal, USA Today, FOX Business, FOX News Channel, and CBS Radio - just to name a few.
Kevin's audience is diverse, and you are bound to connect with new readers who are excited about being introduced to your book.
Here are the benefits of this Top 10 Radio Interview and Media Training package:
Before each interview, Kevin will provide you with helpful information on how to prepare for the broadcast. You get to directly benefit from all of his years of experience as both an author and radio show host.

You will have an eight minute on-air interview which will be broadcast during drive time on one of the longest running business shows in the 4th largest city in the US, a top 10 radio market! The show has a long history of lifestyle content – fiction books, self help, vacationing, ideas, hobbies, self-help, etc.

In the days following the broadcast, you will receive an .mp3 recording of the interview. You can use this recording on your social media channels, your website, and to give to other radio show hosts as an example of your work (or in any way you desire).

Your interview will be showcased (with a short story and media from the program) at the national news website, US Daily Review, a top 1/10 of 1 percent authority website according to Technorati. The 200 new articles being added to the site each month are often quoted throughout the blogosphere. It has approximately 250,000 hits and over 20,000 unique visitors a month.

As an added bonus to the radio interview itself, you will receive media training in the form of a review of your interview performance. This review will cover your strengths, weaknesses, and ways to improve. This can be used to enhance your performance and response in future interviews.
How do you get started? It's a breeze! Just click the "Add to Cart" button below, and you'll be on your way to perfecting your radio interviewing skills and spreading the word about your book!