| | |
| --- | --- |
| Home » Custom 1st Class U.S. postage stamps (120 count) | Thursday, May 23 |
Custom 1st Class U.S. postage stamps (120 count)
Price: $164
Option Details:

Add a special touch to every letter you send with a First Class USPS approved postage stamp customized with your book's cover image. Scroll to the product details to learn more.

Authors published with Outskirts Press can save 10% on this option by ordering from within your Publishing Center. Login now and save.
Using personalized Custom First Class U.S. Postal Stamps is a great way to brand all of your correspondence. They are sold in quantities of 120. Each stamp is for first-class US Postage and works exactly as if you purchased a first-class stamp from the United States postal office. The unique difference is that each stamp is customized to feature the front cover of your book in full-color.
These stamps are eye-catching and are a great source for advertising. What better way to promote yourself and your book than to send a letter to a friend, family member, or business acquaintance that has a picture of your book on the stamp? This turns your letter into an inexpensive "billboard for your book".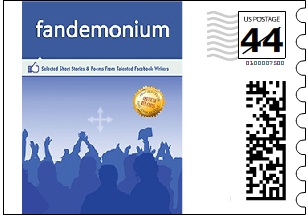 FREE SHIPPING WITHIN THE CONTINENTAL UNITED STATES
The above image is for illustrative purposes only. The cover image will be replaced with the cover image for your book.