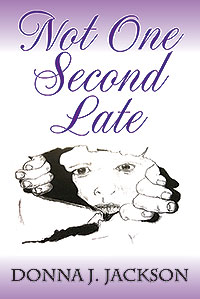 THE WORDS OF THIS TESTIMONY WERE INSPIRED BY GOD AND POWERED BY CHRIST
A highly dramatic and explosive testimony which exposes the lives of everyday people and tracks how they chose to live life according to the world in spite of having been introduced to the only true living God. These true occurrences as told through the eyes of the author are sure to lose friends, and win hearts, souls, and lives over to Jesus to the glory of God.
In "Not One Second Late", Donna takes her reader on a six-year journey spanning from 2005 through 2011. The impacts of many of the events occurring during and prior to this time period continue today. In God's desire to use what the enemy meant for evil, for good, Donna answered the Lord's call to action. As God gave her the courage to write this painfully private account, bondages were broken. In the breaking down of prideful walls, the Lord knew that millions would now have yet another vehicle through which to come to know Him who otherwise might not.
Although critical events take place over a period of many years, the resulting testimony in fact spans a lifetime. A testimony has a definite beginning and a certain end: Born x/x/xxx - Died x/x/xxx; in between are the pages, chapters, and seasons of life.



About Donna J. Jackson


A mentor, teacher, speaker, and trainer, Donna is an influential leader and highly effective communicator who is available to facilitate sessions for: women's fellowships, battered women's shelters, book clubs, singles ministries, prison ministries, and other forums in order to augment the reading and navigation of this manuscript with additional insights not penned herein but which helped to shape the turn of events that contributed to this account.

With or without a facilitated session, the reader will most assuredly follow the transforming testimony in the hopes that in some small way they can relate to or be freed through their own unique transformation as they allow Christ to work in and through them.

Donna is a powerful intercessor and prayer warrior and can be found most days ministering love, prayer, encouragement, and assistance to her beloved senior citizens.

Donna holds a BA in Foreign Languages and International Business from Adelphi University and a Juris Doctorate degree from Rutgers School of Law-Newark.

*GIFT SUGGESTION: Consider giving "Not One Second Late" as a gift of encouragement and inspiration to someone who might be going through a rough patch in their marriage, on their job, or in their life.

To book engagements via FaceBook: Click here and search "PennedByDonna"

About the Cover Art: The cover artwork was drawn by 13-year-old Jaylan Hunter and is based on an original drawing shown here by JD Hillberry. This derivative of the original drawing was approved for this purpose by the copyright holder, Mr. Hillberry. To see more of JD Hillberry's artwork please visit: www.jdhillberry.com