6 x 9 paperback cream

ISBN: 9781478716174

$25.95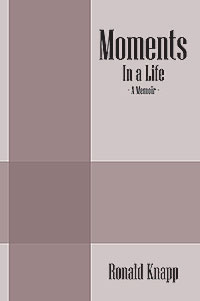 Most memoirs, it seems, are written by the rich or the famous. The author of Moments can make no claim to either. He simply sees himself as a common man for whom life has been an uncommon adventure. He grew up in a working class family where a high school education had been the highest attainment and went on to earn two master's degrees. He became a minister when he was nineteen years old and continued in the ministry for six decades. Over those years he has given several thousand sermons and presided at hundreds of weddings, funerals, and memorial services. Over the course of his ministry, furthermore, he progressed from Christianity to agnosticism. He also married at nineteen and has been married to the same woman for sixty years. Together they raised five children, lived in thirteen different homes, been residents of seven different states. In addition, the author has been fortunate in that he has been able to travel to some interesting and exotic places around the globe. All of this might suggest that he has some interesting stories, which he refers to as "moments" to share with the world.



About Ronald Knapp

Ronald Knapp, who lives in Omaha, Nebraska, holds degrees from Central Michigan University, Drew University and Dartmouth, is a family man, a nature lover and a Unitarian Universalist minister. He is the author of two previous books published by Outskirts Press: Of Life Immense: The Prophetic Vision of Walt Whitman and That's All Right If He's Really Saved! Sermons from a Liberal Religious Pulpit.