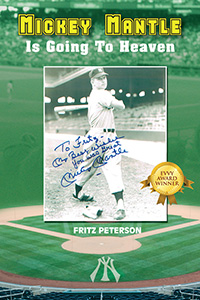 In the 1960s in New York City, every young boy dreamed of playing for the Yankees. The difference was that Fritz Peterson actually did it. In his rookie year, in 1966, Peterson had as his teammates famous Yankees like Mickey Mantle, Whitey Ford, and Roger Maris. It wouldn't be long before he would make a name for himself--both on the field and off.
Peterson was known as the best prankster in baseball during his playing career. As his story unfolds, we are given a home plate look into the quirks and foibles of his time with such baseball greats as Thurman Munson, Jim Bouton, Bobby Murcer, Joe Pepitone, Ron Blomberg, Mel Stottlemyre, Roy White and many more.
In 1973, Peterson was involved in what Sports Illustrated called the most highly publicized trade in all of sports history--when he and a teammate traded wives, houses, and even family dogs. The public outcry became overwhelming and did damage to Fritz's career but wasn't the real cause of his downfall. Whether in his very public years as a baseball player or in his later, private struggle with prostate cancer, Fritz Peterson continued to seek the answer to "salvation" until he ultimately came to find God's unconditional love, grace, and purpose for each one of us.