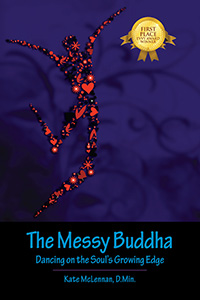 A Soulful Approach to Life and Art As Spiritual Practice
Have you ever wondered why bad things happen in your life when you know you are doing all the right things?
Is illness merely a wake up call or is there a deeper spiritual meaning?
What propels you to your soul's growing edge?
To be a buddha means to be awake while living the questions.
The Messy Buddha
spotlights Kate McLennan's journey to awaken and find meaning while dancing on her soul's growing edge through cancer, chronic illness, and the messiness of life.
♥ Explore meditation and body prayer. ♥ Cultivate creativity as spiritual practice. ♥ Awaken with The Messy Buddha
.
Photo by Dr. Shaz Austin Davison
"'The Messy Buddha' is a strong and recommended pick for anyone who struggles to fit time for their spirit into their lives."

~Midwest Book Review
"See through the eyes of a true spiritual warrior. Kate McLennan has lived it, correction is living it and her life is truly a magnificent piece of performance art we should all embrace."

~Brian E. Erland "Rainbow Sphinx" Amazon Top 500 Reviewer
Part spiritual memoir, part instruction manual —

wholly dance steps for the soul's growing edge.