A Teenager Called Nene San
Growing Up in Japanese Occupied Philippines
Paperback
Retail Price: $14.95
Buy 1-9 copies: $13.46 each save 10%
Buy 10 or more: $11.21 each save 25%
Cost: $13.46
Qty: You save: 10%
Book Details: Scroll below for more information about this book, provided directly by the author.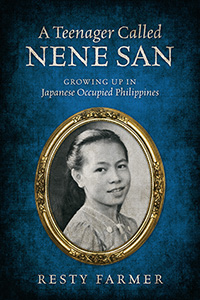 ---
Product description...
Experience the Japanese occupation from the life of a Filipino teenager

This is a true story of a teenager called Nene San by the Japanese during World War II in the Philippines. She was 15 years old, a student at St. Paul's College Catholic School for Girls and living with her grandparents in Manila when the Japanese invaded the Philippines on December 10, 1941. Originally from Concepcion, Tarlac in the Philippines, she learned to speak the Japanese language, besides her own dialect (Pampango), Tagalog (the national language) and English. She witnessed the American flyer shot down by the Japanese during a dogfight and who was brought in front of their house. It took her 42 years searching for the family of the downed American flyer. As a teenager, she was pressed into service as an interpreter during the Japanese occupation. During liberation, she also interpreted for the American forces until the end of war. Nothing can be worse than war!
---
Product details...
Paperback
Format: 6 x 9 paperback cream, 111 pages
Publisher: Outskirts Press (Mar 05, 2014)
ISBN10: 1478729066
ISBN13: 9781478729068
Genre: BIOGRAPHY & AUTOBIOGRAPHY / Personal Memoirs

---