II CORPS
The CIA In Vietnam
Paperback
Retail Price: $13.95
Buy 1-9 copies: $12.56 each save 10%
Buy 10 or more: $10.46 each save 25%
Cost: $12.56
Qty: You save: 10%
Book Details: Scroll below for more information about this book, provided directly by the author.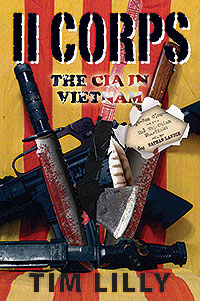 ---
Product description...

Here is the highly anticipated coinciding spin off sequel to the novel Wode Susu—My Uncle—A Story Of The Chinese Mafia. In the first novel in this series you learned of a trinity of central characters. The first novel was told from the point of view of the Chinese Mafia Boss Chan Wan San's nephew Randal Ting and his best friend was Tommy Landis. In this volume, Tommy tells you of his father Nathan Landis. From his growing up in a rural coal town, to his beginnings at the end of World War II in the OSS, and then recruited by the CIA to Force 784 for his part in the Korean War and then sent to Vietnam. He is appointed the Declared Agent to the Consulate General and Director of Air Operations of Air America for Military Region 2, II Corps, Nha Trang, Republic of South Vietnam. Force 784 is a little known branch of the CIA that was the beginnings of the very first Delta Force Teams that were comprised of Air Commandos and Green Berets and would soon recruit the best soldiers from all branches of the Special Forces and operators and pilots from the Air Force, Navy, and Marine Corps. Landis is not only the Director of Air Operations but participates in all the highly classified clandestine operations in Southeast Asia. He has been told by his superiors that there is illegal profiteering going on and it his additional duty to sniff them out and expose them. He is also well aware that in doing so it will more than likely end his career in the Foreign Service. Not since the release of the movies "Platoon" and "Full Metal Jacket" has there been a story on Vietnam that is so compelling, gritty, and graphic. You will feel the humid climate and witness gun battles and dog fights unveil before your very eyes. You will hear the screams of dying men and see their blood splatter across the pages. The colorful characters will suck you in and make you feel as though you are in the story itself. Welcome to the real war in Vietnam. Based on a true story and inspired by real events.
---
Product details...
Paperback
Format: 6 x 9 paperback white, 261 pages
Publisher: Outskirts Press (Nov 22, 2013)
ISBN10: 1478722061
ISBN13: 9781478722069
Genre: FICTION / Action & Adventure

---