Model III: The Longitudinal Star Gate 14 Model: An In-Depth Perspective of Sequential Conglomerates Informatics. Edition 1
Advance Chess: A Pre-Dawn to the Age of Superlative Bionic Robotic Intelligence Capabilities.
Paperback
Retail Price: $83.95
Buy 1-9 copies: $75.56 each save 10%
Buy 10 or more: $50.37 each save 40%
Cost: $75.56
Qty: You save: 10%
Book Details: Scroll below for more information about this book, provided directly by the author.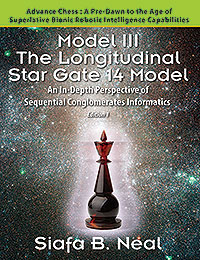 ---
Product description...
Advance Chess: The Longitudinal Star Gate 14 (S. G. 14) Model. Edition 1. "Are we on the same page? Are we there yet?"

Reminiscing through the quiet contemplations in the corners of my mind, like the gentle meandering streams of viscous channel flow, with its ever so fluid twists, turns and churns, along the seemingly endless river banks, where the streams erode the land, I cannot help but find my true self, in an endless barrage of possibilities and problematic probabilities, yet, while enjoying those inspirational moments in time while contemplating my next move, I cannot help but sigh, at the momentous capacity of knowing the seemingly endless, in-fathomable depths of my learning capacities. The game in question, yet, as you may surmise, without doubt, is not the conventional game of classical Chess, but rather, the beginnings of an exponential conglomerate of the space-age game of 3-Dimensional Chess, where the contenders are more likely to be closely human resembling programmable Robots or Androids that have human-like response, action-reaction behavioral inter-phases. It is without doubt, in order to be ahead of the curve of Advance Chess engagements, purchasing this book and the Board Game Model, which incidentally sells separately due to logistics problems of distribution, storage, marketing and advertising, as well as the supplemental Compact Disc (C.D.), does ignite an oasis of pragmatic knowledge gravitating towards and promoting upwards an individual's Advance Chess playing Skills. It is at this juncture, in reference to the connecting issues of Advance 3-D Chess and artificial Robotic Intelligence, I pose the following questions to you, the Reader, "Are we there yet?" and "How long does it take?"
---
Product details...
Paperback
Format: 8.5 x 11 color paperback, 277 pages
Publisher: Outskirts Press (Feb 13, 2013)
ISBN10: 1478718560
ISBN13: 9781478718567
Genre: GAMES / Chess

---