Soul Touched
A Neo Poet's Rendition
Paperback
Retail Price: $10.95
Buy 1-9 copies: $9.86 each save 10%
Buy 10 or more: $5.48 each save 50%
Cost: $9.86
Qty: You save: 10%
Book Details: Scroll below for more information about this book, provided directly by the author.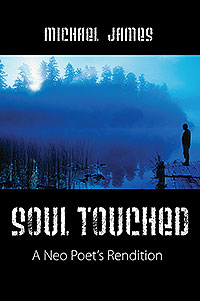 ---
Product description...
I wish my spirit To be As the wind catchers, Soaring, boundless, and free.

Soul Touched is a contemporary collection of insightful poetry and short stories that capture the human experience as well as the healing power of nature. This book explores how humanity is still intertwined with nature and with other people, despite the alienation of modern culture. The collection examines the ways in which life can be experienced as an exultation of joy, yet recognizes its struggles. With natural, accessible, heartfelt language and images, the reader is given a glimpse of deep and resonant issues in a mirror that gently softens a profound message. Open this book to discover the possibility of transcendence, and the potential for healing that dwells in everyday life.
---
Product details...
Paperback
Format: 6 x 9 paperback white, 48 pages
Publisher: Outskirts Press (Feb 12, 2013)
ISBN10: 1478716460
ISBN13: 9781478716464
Genre: POETRY / American / General

---