The Wacky World of Wendy White!
A Whopper of a Tale
Paperback
Retail Price: $12.95
Buy 1-9 copies: $11.66 each save 10%
Buy 10 or more: $6.48 each save 50%
Cost: $11.66
Qty: You save: 10%
Book Details: Scroll below for more information about this book, provided directly by the author.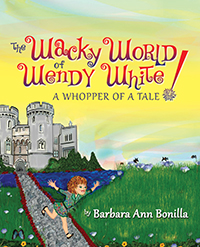 ---
Product description...

A FUN and TASTY read for eaters of ALL ages! Well-Read Foodies Savor the Tasty Prose in this unique new Children's Book. Dozens of hidden food references, FIFTY full-color illustrations and sing-song prose make "The Wacky World Of Wendy White!" a treat for the eyes, ears and brain. The beautiful, full color book is boiling over with snappy rhyming prose, fresh illustration and a heaping helping of saucy humor. This FAST-paced FOOD adventure will have you coming back for seconds.
---
Product details...
Paperback
Format: 7.5 x 9.25 economy color paperback, 47 pages
Publisher: Outskirts Press (Aug 20, 2013)
ISBN10: 147871543X
ISBN13: 9781478715436
Genre: JUVENILE FICTION / Family / Alternative Family

---