Shadows
Paperback
Retail Price: $14.95
Buy 1-9 copies: $13.46 each save 10%
Buy 10 or more: $8.97 each save 40%
Cost: $13.46
Qty: You save: 10%
Book Details: Scroll below for more information about this book, provided directly by the author.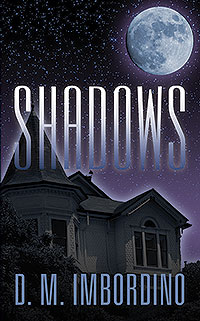 ---
Product description...
"You don't want to know what the voices say to me."

After a string of unfortunate events, Amanda Pennington and her family have moved from their familiar surroundings of California to the coast of Ellsworth, Maine. The new home on Water Street could be called anything but cozy. The old Victorian structure has many secrets. With the aid of a tribal elder and his grandson, Marcus, Amanda is plunged into a deadly game of cat and mouse. Will Amanda survive the horrors that await her? Amanda and her brother are praying for a miracle. One that they fear may come too late... Or is it already?
---
Product details...
Paperback
Format: 5 x 8 paperback cream, 278 pages
Publisher: Outskirts Press (Feb 12, 2013)
ISBN10: 147871428X
ISBN13: 9781478714286
Genre: FICTION / Ghost

---