Transformational Outsourcing
Maximize Value From IT Outsourcing
Paperback
Retail Price: $20.95
Buy 1-9 copies: $18.86 each save 10%
Buy 10 or more: $15.71 each save 25%
Cost: $18.86
Qty: You save: 10%
Book Details: Scroll below for more information about this book, provided directly by the author.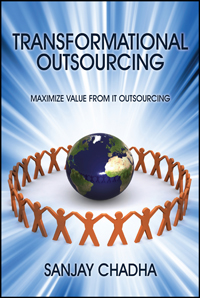 ---
Product description...
A SERVICES APPROACH TO MANAGE IT OUTSOURCING

Companies outsource today to reduce cost, increase flexibility, and focus on core competence. Outsourcing is not a fad, but strategic lever organizations utilize to meet their planned objectives. Outsourcing led transformations have become a mechanism for generating economies of scale, specialization, and standardization. Let's face it most outsourcing initiatives fail to deliver the expected value. The wisdom isn't a secret - the companies succeeding in this journey invested in building the right competencies, proper governance, and support structures to manage these initiatives.

The Customer Centric Service Competency framework introduced in this book essentially brings forwards the service orientation and integrates outsourcing successfully with the usual business of an IT organization. The service framework encompasses thirty key competencies that can be implemented over the duration of outsourcing initiative. Implementation of the services framework will also bring together skills in areas of program management, service management, vendor management, and relationship management.

This book is sweeping and perhaps innovative - for it introduces an integrated view of core services and process centric competencies to succeed with outsourcing. It also brings forward a matured competency based method to managing vendor relationships - more art than science. The information contained in this book, when applied in context of your organization, will emerge several areas of efficiencies you may benefit by implementing.

6 Key Reasons You Must Read This Book

-Innovative services based approach and practical insights into implementing outsourcing strategy, core capabilities and their strategic alignment with business.

-Written for novice as well as experienced buyers and service providers.

-Guides IT professionals to simplify application of outsourcing - improving accountability across outsourcing value chain, and improving benefits.

-Provide easy to understand tools, techniques, and best practices to manage outsourcing programs and provider relationships.

-Improve service focus for outsourcing programs by enhancing productivity, reliability, responsiveness, competency, and maturity.

-Guide for providers to position themselves as trusted advisors.
---
Product details...
Paperback
Format: 6 x 9 paperback cream, 322 pages
Publisher: Outskirts Press (Jan 31, 2013)
ISBN10: 1478713720
ISBN13: 9781478713722
Genre: BUSINESS & ECONOMICS / Outsourcing

---