Vietnam War: Defining Moment For America
Remembrances and Reflections of an Army Intelligence Officer
Paperback
Retail Price: $15.95
Buy 1-9 copies: $14.36 each save 10%
Buy 10 or more: $7.98 each save 50%
Cost: $14.36
Qty: You save: 10%
Book Details: Scroll below for more information about this book, provided directly by the author.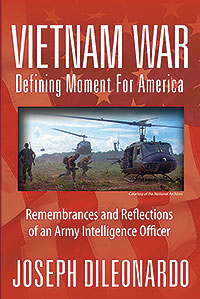 ---
Product description...
"Such Old Eyes...Such Young Faces"

This book is unlike any war book the reader may have previously read. The author writes in the first person, as the events as recorded were his own personal experiences. His goal is to place the reader with him 40 years ago, to experience the lead up to his service in the Vietnam War and the aftermath when he returned home. The author writes almost totally from memory, for him it's as if the events just happened yesterday. The reader will be impressed as was the author, how he was a participant to some of the major historical events of the Vietnam War. The book follows a 100-year chronology of family history. He shares his emotions, experiences, opinions and makes recommendations. He challenges the readers to consider the same moral dilemmas and decisions he did. Lastly he makes recommendations for the future of America and the future of Warfare.
---
Product details...
Paperback
Format: 6.14 x 9.21 paperback, 264 pages
Publisher: Outskirts Press (Jun 06, 2013)
ISBN10: 1478710705
ISBN13: 9781478710707
Genre: HISTORY / Africa / Central

---