Mrs. Cratchit's Christmas
Isn't it time you heard Mrs. Cratchit's side of the story?
Paperback
Retail Price: $11.95
Buy 1-9 copies: $10.76 each save 10%
Buy 10 or more: $8.96 each save 25%
Cost: $10.76
Qty: You save: 10%
Book Details: Scroll below for more information about this book, provided directly by the author.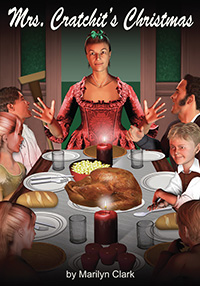 ---
Product description...
Get to Know Bob Cratichit's Wife!
You've read the beloved story by Charles Dickens, A Christmas Carol, that tells how an encounter with three Christmas Spirits turns Ebenezer Scrooge from a miserly cynic into a kind philanthropist. Now read what happens to change Mrs. Bob Cratchit's feelings toward her husband's employer from anger and resentment to gratitude and love!
---
Product details...
Paperback
Format: 7 x 10 paperback, 25 pages
Publisher: Outskirts Press (Jul 31, 2012)
ISBN10: 1432795678
ISBN13: 9781432795672
Genre: JUVENILE FICTION / Holidays & Celebrations / Christmas & Advent

---