The Pleasures of Testicles:
A Celebration and Exploration of All Things Balls
Paperback
Retail Price: $10.95
Buy 1-9 copies: $9.86 each save 10%
Buy 10 or more: $6.57 each save 40%
Cost: $9.86
Qty: You save: 10%
Book Details: Scroll below for more information about this book, provided directly by the author.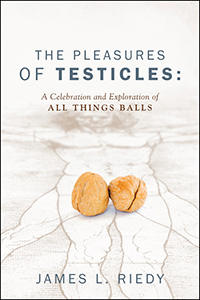 ---
Product description...
Begin a Lifetime of Exploration, Admiration, and Devotion ...
Arguably the ugliest but most functional device in the human body—symbols of manliness, objects of ribald humor and obscenities, imparting sexual pleasure and ensuring the continuation of the human race—the testicles (or balls, eggs, bullocks, stones, nuts . . . whatever you're inclined to call them) have been all but totally ignored in the writings of even internationally celebrated sex authorities. The Pleasures of Testicles exams these under-appreciated hallmarks of male sexuality from all angles. Entertaining, provocative, and hilarious, drawing on information from sources as diverse as ancient history and modern online chat groups, this book covers every possible aspect of pleasure relating to the testicles, from visual enhancements to the most shocking of intimate acts. If you're ready for sexual adventure and education, or you're just curious, The Pleasures of Testicles will give you a wealth of information . . . and plenty of ideas you can put into action to more thoroughly enjoy the amazing jewels that make the man.
---
Product details...
Paperback
Format: 6 x 9 paperback cream, 115 pages
Publisher: Outskirts Press (Jan 31, 2013)
ISBN10: 1432788892
ISBN13: 9781432788896
Genre: HEALTH & FITNESS / Sexuality

---