I FEEL SPECIAL
Hardback
Retail Price: $28.95
Buy 1-9 copies: $26.06 each save 10%
Buy 10 or more: $13.03 each save 55%
Cost: $26.06
Qty: You save: 10%
Book Details: Scroll below for more information about this book, provided directly by the author.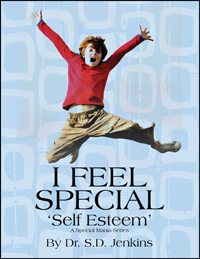 ---
Product description...
Feeling Special about yourself is an essential life skill that will help build confidence and self – esteem in school as well as the workplace. Self – esteem is one of the stepping stones to character building. It is synonymous with self – worth, self – regard, self – respect and self – integrity.
---
Product details...
Hardback
Format: 8.5 x 11 color casebound glossy, 31 pages
Publisher: Outskirts Press (Feb 24, 2012)
ISBN10: 1432781103
ISBN13: 9781432781101
Genre: JUVENILE FICTION / Social Issues / Emotions & Feelings

---