Something Strange
More Humorous Poems for Kids and Adults
Paperback
Retail Price: $24.95
Buy 1-9 copies: $22.46 each save 10%
Buy 10 or more: $18.71 each save 25%
Cost: $22.46
Qty: You save: 10%
Book Details: Scroll below for more information about this book, provided directly by the author.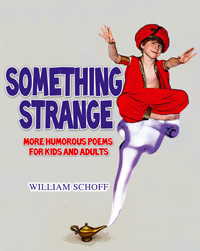 ---
Product description...
Life's Experiences from a Pint-Sized Point of View!
When weekends fall and relatives call My Sundays turn quite bleak. They rave, "He's just the cutest thing!" As they pinch and tweak my cheeks. I squirm in my skin when they start in With their nauseating rants. What I'd like to do is flee the room Or stuff spaghetti down their pants! What's a kid to do when his relatives think he's just the most adorable thing they've ever seen? How would you like to have a sister who bosses you around all the time? Or a neighbor who constantly quotes Shakespeare-badly? And what might you do if you got to make up the rules? These are only a few of the humorous and unusual situations in which our young characters find themselves in the book, Something Strange; William Schoff's delightful follow-up to his previous book of poems, I'm Not Feeling Like Myself Today. This collection of poems is sure to appeal to kids and adults alike with it's rich vocabulary, outlandish situations, and humorous illustrations. The clever word play and use of puns will appeal to older children and adults who will delight at the direct as well as subtle use of humor. Meet Marco the Magnificent, a performing genius who puts his own special twist on familiar and predictable magic tricks; Seamus the Famous, a young detective who longs to work for the FBI; S.P.I.T, a junior team of paranormal investigators; and an ingenious genie who has a way of tricking people out of their wishes. And many, many more! The rich, colorful illustrations which accompany the poems are a creative delight for the eyes. They provide a sense of realism but have a touch of animation. This gives them a fanciful flavor which draws the reader even more deeply into the imagination, innocence, and fantasy world of each poems' character. They also provide an additional dose of humor that goes along well with the text. A wonderful book for independent readers or as a read-aloud book for younger children and parents. Something Strange! is sure to delight the young and the young-at-heart!
---
Product details...
Paperback
Format: 8 x 10 color paperback, 78 pages
Publisher: Outskirts Press (Oct 12, 2011)
ISBN10: 1432780921
ISBN13: 9781432780920
Genre:

---