Facing Challenges, Committing to Change
Unwavering Committment to God, Faith and Forgiveness
Paperback
Retail Price: $15.95
Buy 1-9 copies: $14.36 each save 10%
Buy 10 or more: $7.98 each save 50%
Cost: $14.36
Qty: You save: 10%
Book Details: Scroll below for more information about this book, provided directly by the author.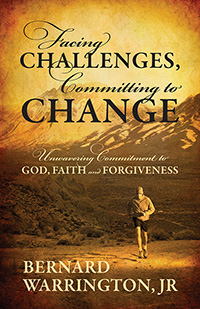 ---
Product description...
God's truth and grace offer deliverance, healing, and freedom!
In his latest book, Bernard Warrington, Jr. shares the change God continues to work within his life in hopes it helps others to change in the midst of adversity. When we accept that life's challenges can facilitate change in all aspects of who we are, we can fulfill that "good and perfect will of God." It's a powerful, life-changing message wrapped in an inspirational and motivating package.
---
Product details...
Paperback
Format: 5.5 x 8.5 paperback cream, 175 pages
Publisher: Outskirts Press (Feb 12, 2013)
ISBN10: 1432723901
ISBN13: 9781432723903
Genre: SELF-HELP / Motivational & Inspirational

---