7.5 x 9.25 paperback

ISBN: 9781432766375

$11.95

Instant e-Book Download

$5.00

Note: e-Books are for electronic enjoyment only. They may not be edited or printed.
| | |
| --- | --- |
| Genre: | FAMILY & RELATIONSHIPS / Interpersonal Relations |
| Publication: | Nov 30, 2010 |
| Pages: | 90 |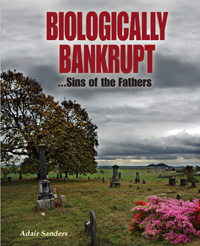 The biblical warning that the sins of the fathers are visited on the succeeding generations is nowhere better demonstrated than in Biologically Bankrupt. In this sprawling, eye-opening memoir, Adair Sanders explores the dysfunctional family relationships that led to years of abuse, failed relationships, depression, and alcoholism—and the remarkable redemption she found at her father's deathbed. Set primarily in Chattanooga, Tenn., Biologically Bankrupt introduces readers to a memorable cast. There's Little Dickie, Sanders' father, who remains oddly attached to his mother, rails against gays, blacks, and Catholics, and maniacally controls the lives of his wife and children. Sanders' brother fails to do much of anything after high school glory days, but remains emotionally and financially dependent on their father even as he emulates the abuse with his own family. Sanders' mother attempts to leave her marriage but remains trapped - and endures a lifetime of disappointment. Then there's Sanders' first husband, whose physical beatings give way to emotional attacks just as harsh. And that's just for starters. Through it all, Sanders traces the lineage of broken relationships back to her profoundly imperfect father's relationship with his mother. And it is through this understanding of seemingly illogical callousness that she finally learns to accept the man and his faults. Frank, heartfelt and unflinchingly real, Biologically Bankrupt peels back the layers of family bonds and Southern society while it reveals essential truths about sexual repression, racism, class-consciousness, love, and abuse.

About Adair Sanders



Adair Sanders is a writer currently living in the Appalachian Mountains of North Carolina, where she pursues a simple and quiet life with her husband, and their dogs Bud and Max. In her previous life, Sanders was a Special Assistant United States Attorney, and later a trial lawyer in private practice.