5.5 x 8.5 paperback cream

ISBN: 9781432752149

$20.95

Instant e-Book Download

$7.00

Note: e-Books are for electronic enjoyment only. They may not be edited or printed.
| | |
| --- | --- |
| Genre: | BODY, MIND & SPIRIT / Mysticism |
| Publication: | Feb 27, 2010 |
| Pages: | 675 |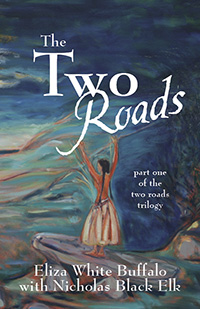 Born with amazing paranormal abilities, Rose survives her terrible life with the help of her spirit guide, Black Elk. Using his world renowned vision of spiritual truth, Black Elk teaches Rose who she really is and the divine purpose of her life, transforming it into one of unbelievable joy...Lissy was born in a hen shed, torn from her 13 year old mother Rose, and secretly adopted. Having traced her birth mother's identity, she uncovers a heart wrenching secret which propels her forwards on her own journey of self discovery...Featuring past life regression, astral travel and spirit communication, The Two Roads is an incredible dark to light story of survival that teaches us all how to transform our lives through our shamanic nature.

Media Center

Press play to listen to audio excerpt...









About Eliza White Buffalo with Nicholas Black Elk



Eliza White Buffalo is a psychic channel for famous Lakota holy man, Nicholas Black Elk. Black Elk has been teaching Eliza all her life, how to be happy and live in truth. Now, through The Two Roads Trilogy, they are bringing that teaching into the world...Eliza lives in Ireland with her husband and sons.



Everyone is good, says Black Elk...evil only exists in our darkest imagination.