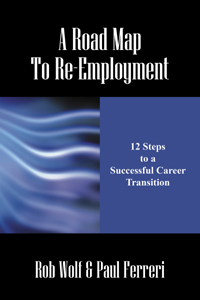 You wouldn't plan a cross-country road trip without a map, would you? It is all-too-easy to get lost in an unfamiliar territory without a good guide. You will waste valuable time and resources, and you'll almost certainly arrive late to your destination, if you arrive at all.
Navigating a career change is just as challenging, but authors Paul Ferreri and Rob Wolf are here to help. With A Road Map to Re-employment: 12 Steps to a Successful Career Transition, Ferreri and Wolf will help you figure out what your specific career goals are and how to lay out a step-by-step plan to achieve them. Whether it is a strategy for re-employment or a completely new career you seek, they'll help you to reach your goals by starting with a clear view of your ultimate goal.
A Road Map to Re-employment is a must-have book for the transitioning professional that will help you build your specific strengths, hone your unique skills and talents, and focus your best efforts to become successfully re-employed.